« Return to Previous Page
FOLSOM'S 93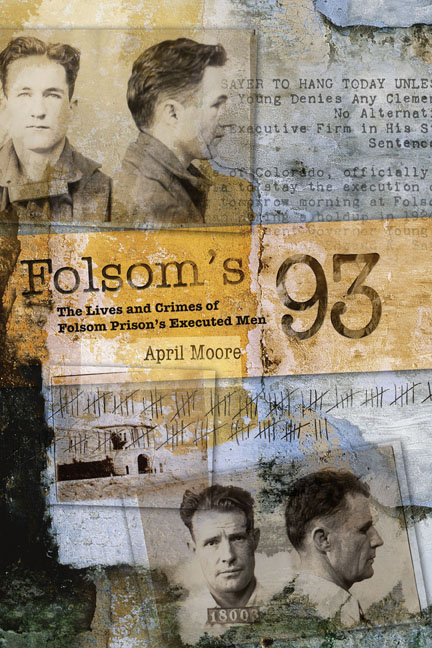 FOLSOM'S 93
Product code:

1135
Availability:

in stock
---
The Lives and Crimes of Folsom Prison's Executed Men
By April Moore.
Ninety-three men were hanged at California's Folsom State Prison from 1895 to 1937, when executions were transferred to the gas chamber at San Quentin. Folsom's 93 is the first book to tell all of their stories, recounting long-forgotten tales of murder and swift justice, or, sometimes, swift injustice that hanged an innocent man.
Based on a treasury of historical information that has been hidden from the public for nearly 70 years, Folsom's 93 presents the full stories of these 93 executed men — their origins, their crimes, the investigations that brought them to justice, their trials, and their deaths at the gallows. This wealth of previously unpublished historical detail gives a vivid view of the sociology of early 20th century crime and prison life.
A trip back in time to the hard-boiled early 20th-century California that inspired the novels of Dashiell Hammett, Folsom's 93 gives a fascinating glimpse into the real-life world of yeggs, confidence swindlers, holdup men, quiet domestic tragedies, and senseless murder sprees that earned these men a date with the hangman. Illustrated throughout with authentic and haunting prison photographs of each of the 93 condemned men, Folsom's 93 brings the crimes and punishments of a vanished era into sharp and realistic life.
---
MORE ABOUT FOLSOM'S 93:

MORE ABOUT FOLSOM'S 93

The story of how author April Moore acquired this remarkable historical material is a noir mystery in itself. Sometime in the 1940s, Moore's great-great-uncle, a professional gambler and bookie, visited Folsom Prison to collect a debt from a prisoner, and somehow "acquired" a box of 93 mug shots and prisoner dossiers, along with an anonymous 40-page typescript history of Folsom from 1858 to 1943. These records stayed with Moore's family, resting forgotten in a closet for nearly 70 years.

Folsom's 93 brings this invaluable historical record to the public for the very first time, preserving historical knowledge that would otherwise be lost forever. –more–Drawing on these unique records, Folsom's 93 tells each condemned man's story — his origin, criminal record, arrest, time in prison and his execution — plus the historical and social background behind his life and crimes. In Folsom's 93, you'll discover strange and haunting stories like that of:

• Jacob Oppenheimer, executed July 12, 1913: Called the "worst criminal in California history," and dubbed the "Human Tiger," by sensationalizing reporters, Jacob Oppenheimer spent eighteen years in solitary confinement. Feared by guards and fellow inmates, Oppenheimer was notorious for his murderous attacks with improvised weapons.

• Alex A. Kels, executed January 4, 1924: Called "the man who died twice," Alex Kels was the center of one of the strangest murder/fraud cases in California history. Kels was originally thought to be the murder victim when a charred body was found in his burnt-out car. But then the sinister truth came out — Kels had murdered a vagrant to fake his own death.

• Alfred Bollinger, executed October 9, 1925: Itinerant laborer Alex Summers was founded murdered in an automobile camp in 1924. Alfred Bollinger was arrested and executed for the murder, but newspaper reports found far more interest in Alfred's wife, Mrs. Eva Bollinger, who had been married four times, and all four of her husbands had been convicted murderers. Eva attributed her poor luck with men to a Gypsy curse. Plus 90 other stories of men who were vicious, insane, pressed beyond their endurance, unlucky or sometimes simply innocent.

Along the way, Folsom's 93 delivers a wealth of historical detail about both the criminal underworld of the era and the straight society that surrounded it — including California's evolving racial attitudes, debates on the death penalty, and the shockingly cruel corporal punishments that used to be tolerated at Folsom.

Illustrated throughout with authentic and eerie prison photographs of each of the 93 condemned men, Folsom's 93 brings the crimes and punishments of a vanished era into sharp and realistic life.

For the Media

Updating...