« Return to Previous Page
AN ARTIST AND A WRITER TRAVEL HIGHWAY ONE NORTH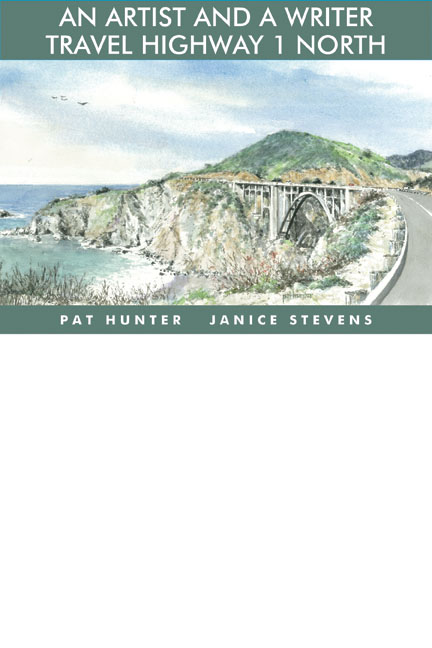 AN ARTIST AND A WRITER TRAVEL HIGHWAY ONE NORTH
Product code:

929
Availability:

in stock
---
It's perhaps the most famous highway in the world — California State Highway 1, a narrow strip of roadway between the cliffs and the ocean on the very edge of the continent. Blessed with spectacular natural landscapes, inspiring ocean views and the echoes of California history, Highway 1 is a scenic drive like no other.
An Artist and a Writer Travel Highway 1 North is a unique literary and artistic guidebook that draws the reader on along the northern half of Highway 1, from the Bixby Bridge south of Carmel to Leggett in extreme northern California, as seen through the eyes of a fine artist and a writer.
Lavishly illustrated with over 100 original full-color Pat Hunter watercolors depicting the natural and man-made glories of California's coast, An Artist and a Writer Travel Highway 1 North is a thinking person's travel guide that reveals hidden treasures and unexpected delights.
---
Additional Description

Written as a memoir of the authors' tour along the highway, the book takes an appealingly idiosyncratic perspective, as the authors record their explorations off the beaten path, their serendipitous discoveries, and their personal reactions to the places and people they encounter.

Going far beyond the usual travel guide, An Artist and a Writer Travel Highway 1 North is a literary and artistic collaboration that captures a very personal experience of a journey, illuminated by a deep historical awareness of the places, people and events of Highway 1 and the California coast.

About the Authors: Pat Hunter is a widely recognized regional artist whose work has been shown in museums and galleries throughout California. Janice Stevens is an author and teacher of English literature and creative writing. Hunter and Stevens have collaborated on numerous books on California architecture and history.

For the Media

Updating...