« Return to Previous Page
Comedy Writing Self-Taught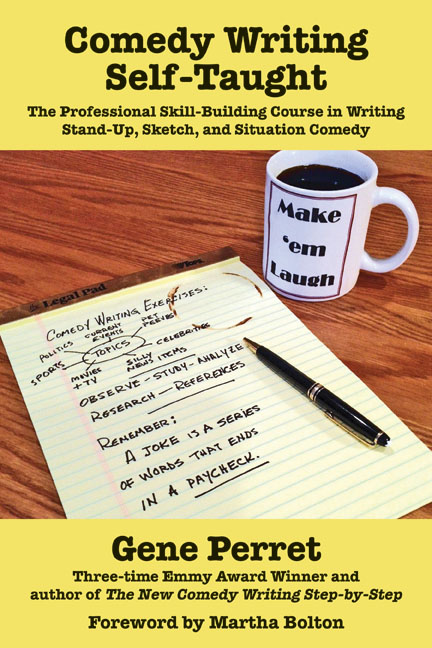 Comedy Writing Self-Taught
Product code:

1707
Availability:

in stock
---
 The Professional Skill-Building Course in Writing Stand-Up, Sketch, and Situation Comedy
by Gene Perret
Publication Date: January 15, 2015 $16.95 ($17.95 Canada) • Trade Paperback • 6" x 9" • 170 pages ISBN 978-1-61035-220-8 To the beginner, writing effective comedy can seem like a mysterious knack you need to be born with. But to Emmy award–winning comedy writer Gene Perret, comedy writing is a set of skills that anyone can study, improve, and master.
In Comedy Writing Self-Taught, Perret (a three-time Emmy winner and former head writer for Bob Hope and Phyllis Diller) teaches aspiring comedy writers how they can teach themselves the essential principles of comedy writing through comedy analysis and writing exercises. Covering the essential principles of writing stand-up comedy, sketch comedy, and TV situation comedy, Comedy Writing Self-Taught is professional-level training from a master who has spent decades at the very top of the entertainment industry.
Expressly designed for home self-study, Comedy Writing Self-Taught teaches that the most effective way to learn is to create comedy yourself. Perret teaches how to analyze the work of professional comedians to learn the principles of comedy and presents a full set of writing exercises to hone one's skills.
The companion Comedy Writing Self-Taught Workbook provides even more comedy writing exercises, giving readers the equivalent of a master class in comedy. Comedy Writing Self-Taught also gives readers valuable advice from an experienced professional on how to pitch one's work, break into the business and get paid for writing comedy.
Combining expert knowledge, rigorous training, shrewd observations about the nature of the entertainment busi- ness and hilarious jokes, Comedy Writing Self-Taught is a must-read book for every aspiring comedy writer and comedian.
ALSO AVAILABLE: Comedy Writing Self-Taught Workbook
About the Author: Gene Perret has written comedy material for such legendary performers as Bob Hope, Phyllis Diller, Carol Burnett, Tim Conway and others. He has been awarded three Emmys and one Writer's Guild Award for his work on The Carol Burnett Show writing staff. He is the author of over 40 books, including the classic The New Comedy Writing Step-by-Step, available from Quill Driver Books.
---

Updating...