« Return to Previous Page
1939: The Making of Six Great Films from Hollywood's Greatest Year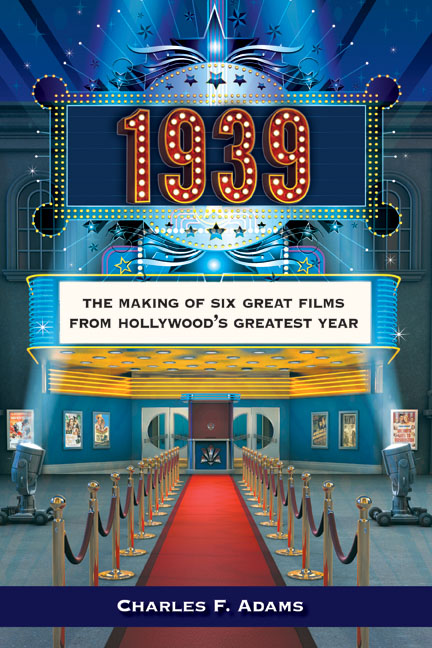 1939: The Making of Six Great Films from Hollywood's Greatest Year
Product code:

1216
Availability:

in stock
---
It was the greatest year in American movie history. In 1939, Hollywood produced the most brilliant, most loved, and most influential films of all time and marked the summit of the careers of such legendary stars as Clark Gable, Jimmy Stewart, and John Wayne.
To commemorate the 75th anniversary of this amazing year in Hollywood history, 1939: The Making of Six Great Films from Hollywood's Greatest Year profiles six of the most significant films of the year: Gone with the Wind, Stagecoach, Mr. Smith Goes to Washington, The Hound of the Baskervilles, The Adventures of Huckleberry Finn, and The Wizard of Oz.
Each of these films was based on a great story, and 1939 reveals in detail how those stories came into being, how long they waited to find fame in film, and how the movies inspired by them eventually made motion picture history. 1939 also describes the behind-the-scenes story of how each film was made: how the story was adapted to a film script; the writers, producers, directors, actors, and technicians who made the film; ho w the film was received by critics and the public; and the later careers of the people who made the film. Authentic period photos of each production give amazing behind-the-scenes glimpses of old Hollywood at work.
1939 exposes the blunt social and business realities that built the Hollywood dream factory. Besides giving a full account of the artistic creation of each film, 1939 also describes the business deals that made each film possible and the Hays Office censorship that mandated careful handling of social and se xual themes — plus the colorful personalities in front and behind the camera and their sometimes disordered personal lives. Hollywood in the 1930s was crass, commercial, restrictive, low-brow, and frequently dysfunctional — but it produced immensely enjoyable films that are still watched with pleasure today.
The perfect combination of film history, artistic appreciation, historical insight, and gossip, 1939: The Making of Six Great Films from Hollywood's Greatest Year is a book that no movie fan should miss.
---
About the Author

Charles F. Adams is a retired marketing executive and the author of several books, including Murder by the Bay and The Complete Geezer Guidebook, both available from Craven Street Books.

Updating...