« Return to Previous Page
Behind San Quentin's Walls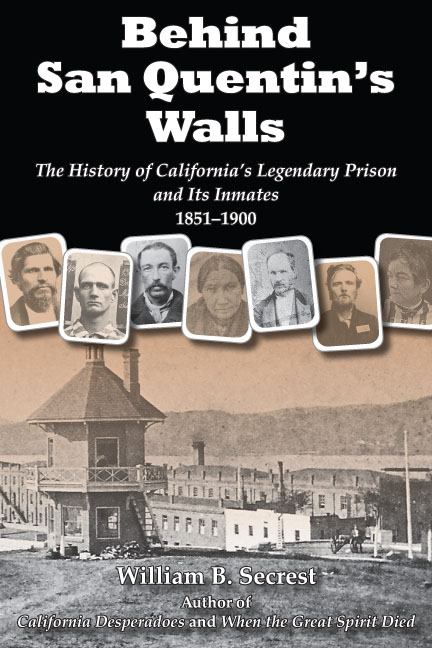 Behind San Quentin's Walls
Old Price:

$18.95
Price:

$15.95
You save:

$3.00

(15.83%)
Product code:

1781
Availability:

in stock
---
Behind San Quentin's Walls: The History of California's Legendary Prison and Its Inmates, 1851–1900
by William B. Secrest
It's one of the most famous prisons in American history, featured in count-less movies and novels. Its inmates have included such diverse characters as Charles Manson, Sirhan Sirhan, Eldridge Cleaver, Merle Haggard, and Neal Cassidy. San Quentin State Prison is an iconic symbol of California, yet few people today know the prison's origins or colorful early history.
Noted Old West historian William B. Secrest uncovers the forgotten beginnings of San Quentin in Behind San Quentin's Walls: The History of the Legendary Prison and Its Inmates, 1851-1900. Going back to original source material of public records and contemporary newspaper accounts, Secrest tells of San Quentin's unlikely beginnings as a real estate scheme and its essential role in taming the lawless California of Gold Rush days.
Behind San Quentin's Walls presents the history of San Quentin as a microcosm of the settlement of California. Planned during the wildest days of Barbary Coast anarchy and Vigilante Committee lynch law, the state prison at San Quentin was the new state's first attempt to impose the rule of law on a violent frontier society. Featuring numerous citations from contemporary accounts, plus period photos, illustrations, newspaper clippings, and maps, Secrest chronicles the political calculations that created San Quentin; the outsize egos of the men who built it; the mismanagement and frequent escapes that marred San Quentin's early years; and the notorious ruffians and cutthroats who were housed there.
Filled with exciting true stories of gunfights, brawls, prison riots, daring escapes, and intrepid manhunts, Behind San Quentin's Walls is also a rip-roaring Wild West tale of how men and women with immense talent for both good and evil tamed a new state and each other. Behind San Quentin's Walls is a bold mix of serious history and lively writing that no fan of Western history should miss.
$18.95 ($19.95 Canada) • Trade Paperback • 6" x 9" • 286 pages
ISBN 978-1-61035-221-5
True Crime / California History • BISAC TRU000000 / HIS036140
Over 200 Historic Photographs and Illustrations • Bibliography • Index
---

Updating...