« Return to Previous Page
CALIFORNIA FRUITS, FLAKES, & NUTS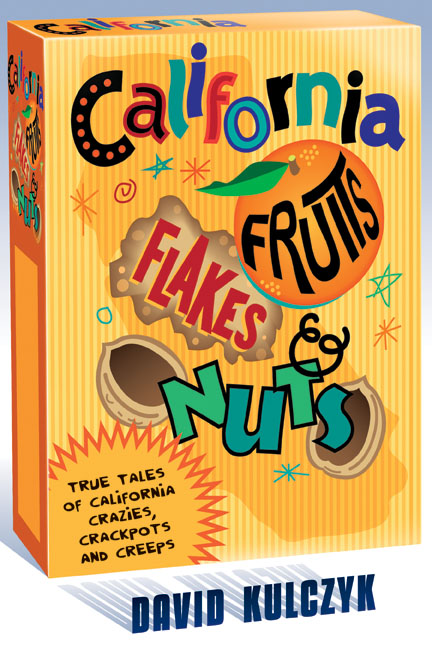 CALIFORNIA FRUITS, FLAKES, & NUTS
Product code:

1210
Availability:

in stock
---
They call California the Granola State — a place where everyone is a fruit, a flake or a nut. They don't get any fruitier, flakier or nuttier than the deviants, crackpots and losers profiled in California Fruits, Flakes, and Nuts. A freewheeling catalog of misfits, eccentrics, creeps, criminals and failed dreamers, California Fruits, Flakes, and Nuts profiles 48 bizarre personalities who exemplify the Golden State's well-deserved reputation for nonconformity.
Unlike the sanitized heroics taught in school, California Fruits, Flakes, and Nuts tells history from the view-point of the losers: murderers, lunatics, eccentrics and disgraced, washed-up celebrities. Presenting a wealth of historical information that had long been swept away and forgotten, California Fruits, Flakes, and Nuts is a uniquely entertaining look at the dark and disreputable corners of California history.
In these pages, Gold Rush pioneers are revealed as murderous madmen; Hollywood celebrities are shown to be drug-addled sex maniacs; early hippies are just 1950s weirdos; and even seemingly ordinary Californians have a talent for freakish, crazy and criminal behavior.
California Fruits, Flakes, and Nuts profiles such stellar Californians as frontier lunatic Grizzly Adams (whose head was one massive wound after multiple bear attacks); I Love Lucy star William Frawley (a racist, misogynist, foul-mouthed drunk); skirt-wearing, skirt-chasing legendarily awful film director Ed Wood; proto-hippie and "Nature Boy" singer eden ahbez; rocket scientist, black magician and L. Ron Hubbard mentor Marvel Parsons; and many more nutjobs, oddballs and dangerously violent freaks.
The perfect book for anyone who likes feeling superior to losers, California Fruits, Flakes, and Nuts is a side-splitting, salacious and shocking salute to the people who made California the strangest place on earth.
---
FOR THE MEDIA
ABOUT THE AUTHOR

David Kulczyk (pronounced Coal-check) is a Sacramento-based historian, freelance writer, and award-winning author of short fiction. His previous books include California Justice (2008) and Death in California (2009), both available from Craven Street Books.

Updating...