« Return to Previous Page
California's Deadliest Women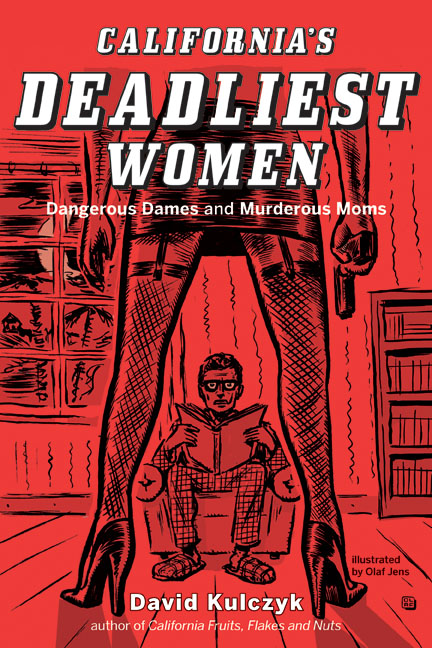 California's Deadliest Women
Product code:

2009
Availability:

in stock
---
Dangerous Dames and Murderous Moms
by David Kulczyk
Illustrations by Olaf Jens
According to all the sexist clichés, women are nurturers, not murderers. But women do kill … and when they do, the results are devastating.
A masterpiece of pure trashy tabloid fun, California's Deadliest Women is the definitive guide to the murderesses of the Golden State, a horrifying compendium of women driven to kill by jealousy, greed, desperation, or their own inner demons.
California's Deadliest Women presents 28 mini-tragedies — sardonic, tightly written profiles of some of the most ghastly crimes ever committed in California. Each lethal vignette presents a murderer's early life,  thecircumstances that drove her to murder, her detection, her punishment, and the aftermath of her terrible deeds, plus quirky, disturbing caricatures of the killers by artist Olaf Jens.
The murderers in California's Deadliest Women aren't passive instruments of male masterminds, like the  women of the Manson Family. These are women who got their hands bloody, personally killing their victims, who often were their own husbands, lovers or children.
From Brynn Hartman, who killed her husband, comedian Phil Hartman, to chemist Larissa Shuster, who  dissolved her husband in acid, to dominatirix Omaima Aree Nelson, who cooked and ate her husband, the killers profiled in California's Deadliest Women show that the fairer sex can be as evil — and as deadly — as any man.
The stories in California's Deadliest Women are shocking and lurid, but also filled with compassion for victim and murderer alike. There are no heroes in this book and no happy endings. The crimes are so bizarre, so puzzling, so corrupt, so disgusting, so gory, so inhumane and so despicable that they are unforgettable … and perversely fascinating and entertaining.
Audience: True crime readers, California history readers, and lovers of the bizarre.
About the Author: David Kulczyk (pronounced Coal-check) is a Sacramento-based crime historian. His
previous books include California Justice (2008), Death in California (2009) and California Fruits, Flakes and Nuts (2013), all available from Craven Street Books.
$14.95 ($18.95 Canada) • Trade Paperback •
6" x 9" • 140 pages
ISBN 978-1-61035-280-2
---

Updating...