« Return to Previous Page
BOOKS, CROOKS, AND COUNSELORS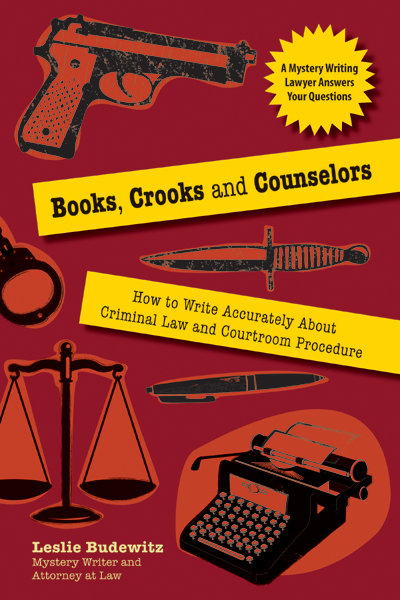 BOOKS, CROOKS, AND COUNSELORS
Product code:

675
Availability:

in stock
---
Subtitle: "How to Write Accurately About Criminal Law and Courtroom Procedure"
Using examples from actual cases, as well as fiction, movies and television, Books, Crooks, and Counselors answers real writers' questions on over 160 separate topics, including: criminal and civil law; differences between federal, state, and Native American jurisdiction; legal aspects of police and private investigation; criminal sentencing, including the death penalty; wills and inheritances; legal terminology; and the written and unwritten codes that govern the public and private conduct of lawyers and judges.
Winner of the 2011 Agatha Award for Best Non-Fiction Book of the Year. 
2012 Anthony and Macavity Nominee for Best Non-Fiction Book of the Year.  
---
Table of Contents

1. Trial and Error: Judicial System Basics, Before the Trial, Evidence, Witnesses, Burden of Proof, Appeals.
2. Legal Issues in Criminal Investigation
3. Crime
4. . . And Punishment
5. Civil Matters
6. Some Terms of the Art
7. Wills, Probate, and Adoption
8. Legal Miscellany
9. Thinking Like a Lawyer
10. Thinking Like a Judge
11. Legal Ethics


For the Media

Updating...