« Return to Previous Page
HERE'S TO MY SWEET SATAN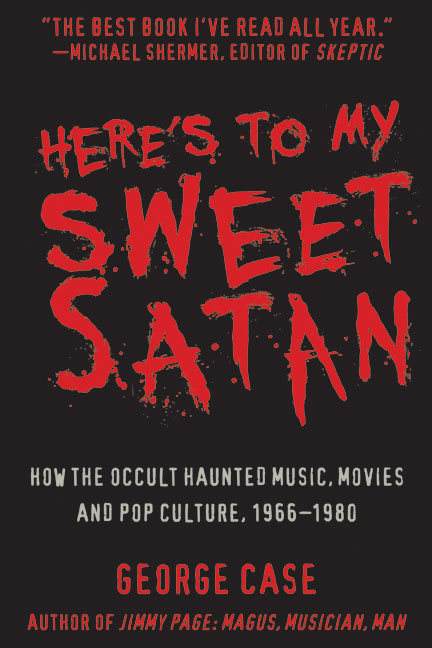 HERE'S TO MY SWEET SATAN
Product code:

1917
Availability:

in stock
---
How the Occult Haunted Music, Movies and Pop Culture, 1966–1980
by George Case
Publication Date: March 18, 2016
In 1966, secular rationality seemed so dominant that Time magazine ran a cover story that asked, "Is God dead?" No one could have anticipated that mysticism, the irrational and the Occult would rule American popular culture for the next 15 years.
Here's to My Sweet Satan is the first book to fully document the Occult craze of the 1960s and 1970s, when the Devil, demonic possession, and magic became the dominant themes of music, books, movies, and even Saturday morning cartoon shows.
A sweeping and masterful cultural history, Here's to My Sweet Satan tells how the Occult conquered the American imagination, weaving together topics as diverse as the birth of heavy metal, Rosemary's Baby, The Exorcist, New Age cults, Bigfoot, Scooby-Doo, Count Chocula cereal, the serial killer Son of Sam, and more.
Here's to My Sweet Satan is both a fun, nostalgic look at some of the campier aspects of 60s/70s pop culture  (remember Dark Shadows, pyramid power,  In Search Of … and Chariots of the Gods?) and a serious inquiry into the origins of the dark, disturbing phenomena of the era, from the Manson Family murders to the Jonestown massacre. Cultural critic George Case gives a superb account of the crisscrossing artistic and cultural influences that intersected between the Occult, rock music, paperback fiction and pop culture of the period. (Case's account of how Sgt. Pepper's Lonely Hearts Club Band led to heavy metal is a must-read for all rock fans.)
Here's to My Sweet Satan ties the many manifestations of the Occult craze into a single cultural movement, a crucial turning point that permanently changed American society, creating the cultural framework for the political power of the religious right, false accusations of Satanic child abuse, and today's widespread rejection of science and rationality. An insightful blend of pop culture and social history, Here's to My Sweet Satan lucidly explains how the most technological society on earth became enthralled by the supernatural.
About the Author: George Case is a writer on ideas and popular culture, and an acknowledged authority on the band Led Zeppelin. He is the author of Led Zeppelin FAQ, Calling Dr. Strangelove and several other books.  Case has also contributed several articles to the social science journal Skeptic.
$18.95 ($23.95 Canada) • Hardcover • 6" x 9" • 196 pages
ISBN 978-1-61035-265-9
---

Updating...