« Return to Previous Page
Highway 99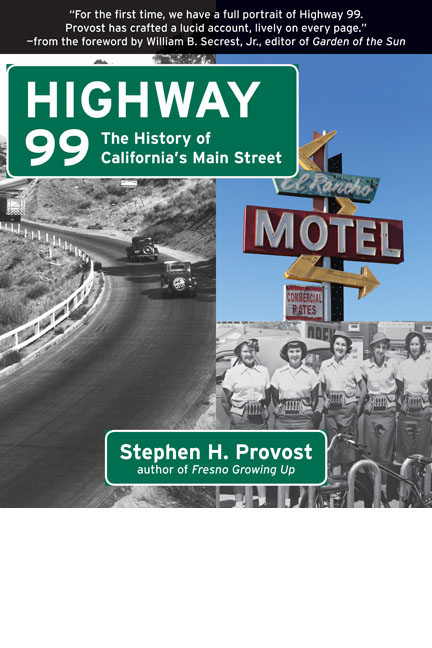 Highway 99
Old Price:

$20.95
Price:

$15.95
You save:

$5.00

(23.87%)
Product code:

2251
Availability:

in stock
---
The History of California's Main Street
by Stephen H. Provost
Before it was a modern freeway, California's State Highway 99 was the main street of California, a simple two-lane road that passed through the downtowns of every city between the Mexican border and the Oregon state line.
Highway 99: A History of California's Main Street turns back the clock to those days when a narrow ribbon of asphalt tied the state's communities together, with classic roadside attractions and plenty of fun along the way.
Illustrated throughout with historical photographs, Highway 99 documents the birth and development of the great highway, from its beginnings as a dream project by a handful of early motorcar enthusiasts to its 1920s incarnation as a narrow trail over the Grapevine to the modern superhighway of today.
Along the way, Highway 99 chronicles an amazing amount of history: the invention of basic highway equipment such as the center stripe and the road sign; the great Dust Bowl migrations of the Okies; the origins of California landmarks like Griffith Park and Magic Mountain; and the network of beacon towers for airplanes that briefly paralleled the highway in the 1920s; and numerous other stories.
Above all, the story of Highway 99 is the story of classic American roadside culture. Highway 99 witnessed the birth of the motor court motel, the drive-thru window, the theme park, and the truck stop, and Highway 99 unearths detailed histories of the innumerable gas stations, hotel, restaurants, amusements, and whole communities that developed to cater to the motorist.
From the foundations of America's fast-food culture to the birth of the Bakersfield Sound, the history of California has happened around Highway 99, and Highway 99 brilliantly depicts that history.
About the Author: Stephen H. Provost is a journalist, author, and editor of The Cambrian  newspaper. His previous books include Fresno Growing Up: A City Comes of Age 1945—1985, a history of his hometown. Provost  lives with his wife on California's Central Coast, where he blogs at his website, stephenhprovost.com.
$20.95 US • Trade Paperback • 8.5" x 10" • 350 pages
ISBN 978-1-61035-296-3
HISTORY / California • BISAC HIS036140
Over 300 black and white plus 33 color photographs• Index
---

Updating...