« Return to Previous Page
Pardon My Hearse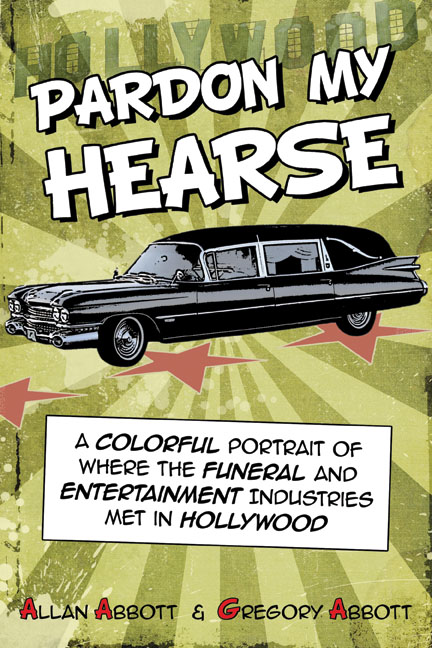 Pardon My Hearse
Old Price:

$16.95
Price:

$14.95
You save:

$2.00

(11.80%)
Product code:

1745
Availability:

in stock
---
A Colorful Portrait of Where the Funeral and Entertainment Industries Met in Hollywood
 by Allan Abbott and Greg Abbott
Even celebrities die — and he was the man who picked up the bodies!
Allan Abbott ran the leading mortuary in Hollywood and got an unprecedented glimpse of how celebrities really live and die. The Forrest Gump of the funeral industry, Abbott was everywhere celebrities died, from helping to prepare Marilyn Monroe's body to standing next to Christopher Walken at Natalie Wood's funeral.
Now in his new memoir Pardon My Hearse, Abbott tells the rags-to-shroud story of how he went from a young man with a hearse to the funeral director to the stars — a rollicking, unexpectedly hilarious story of glamorous funerals, mishaps with corpses and true-life glimpses of celebrities at their most revealing moments.
When he wasn't transporting celebrity corpses, Abbott used his funeral limos to transport living celebrities to Hollywood parties and rented his vast collection of cars and funeral props to movie and TV productions. Pardon My Hearse presents a dazzling A-List of celebrities, living and dead, whom Abbott encountered during his career, including Richard Burton, Elizabeth Taylor, Joe DiMaggio, Robert Redford, Frank Sinatra and others.
Pardon My Hearse takes readers behind the scenes to tell the secrets of Marilyn Monroe's funeral (where Abbott acquired the most unlikely souvenir of Monroe's falsies) and dishes the inside story of disgraced crematorium operator David Sconce, who ordered an attack on Abbott's business partner Ron Hast to cover up Sconce's criminal mishandling of bodies and remains. Abbott also shares gruesome details of removing corpses from the devastation of the 1971 Sylmar earthquake, reburying corpses dislodged from the 1978 mudslide that swept through the Verdugo Hills Cemetery and more.
A treasure trove of insight and gossip you can't get anywhere else, Pardon My Hearse is an eye-opening look at secret Hollywood from the man who literally knows where the bodies are buried.
$16.95 ($17.95 Canada) • Trade Paperback • 6" x 9" • 270 pages
ISBN 978-1-61035-248-2
---

Updating...