« Return to Previous Page
Police Craft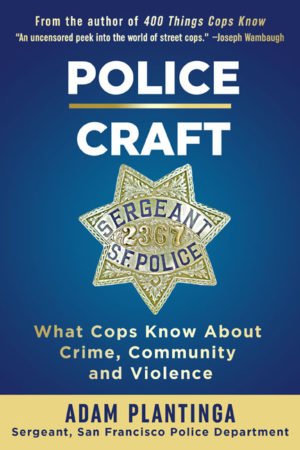 Police Craft
Old Price:

$16.95
Price:

$12.95
You save:

$4.00

(23.60%)
Product code:

2398
Availability:

in stock
---
What Cops Know About Crime, Community and Violence
by Adam Plantinga
Publication Date: December 1, 2018
A veteran police officer gives his thoughtful, balanced views on police shootings, racial profiling, community relations, and every other aspect of policing in Police Craft: What Cops Know About Crime, Community and Violence.
Written by Adam Plantinga, the author of the acclaimed 400 Things Cops Know, Police Craft is a thought-provoking and revelatory examination of policing in America, as seen by a working police officer.
Plantinga, a police officer for 17 years and a serving sergeant with the San Francisco Police Department, gives an inside view of the police officer's job, from handling evidence and conducting interrogations to coping with danger, violence, and death.
Police Craft explores a wide range of topics related to police work, from the techniques of policing to the culture of the profession, the sociology of crime and criminals, and the psychological toll on police officers.
Not hesitating to confront controversial issues, Plantinga presents a police officer's views on police shootings, racial profiling, and relationships between police and the community — and offers reasoned proposals on what the police and the public can do better.
Hard-boiled, humorous, and compassionate, Plantinga wrestles with the complexities and contradictions of a job he loves in which he witnesses so much suffering. Transcending today's strident pro-cop/anti-cop rhetoric, Police Craft will give every reader a greater respect for the police and greater understanding of the job they do.
Audience: True crime and mystery readers, readers interested in police work, readers interested in current events and public policy related to policing, and active, retired and aspiring police officers.
About the Author: Adam Plantinga has been a police officer for 17 years and is currently a sergeant with the San Francisco Police Department. Plantinga's first book, 400 Things Cops Know, received rave reviews from star crime writers such as Lee Child, Edward Conlon, and Joseph Wambaugh and was hailed as "the new bible for crime writers" in the Wall Street Journal. Plantinga lives in the Bay Area with his wife and daughters.
$16.95 US • Trade Paperback • 6" x 9" • 280 pages • Index
ISBN 978-1-61035-331-1
Available for pre-sale. Will ship on publication.
---

Updating...