« Return to Previous Page
Sabby the Sea Otter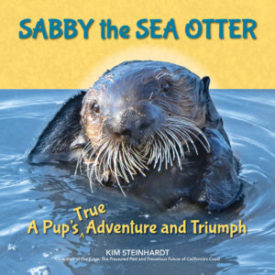 Sabby the Sea Otter
Old Price:

$17.95
Price:

$12.95
You save:

$5.00

(27.86%)
Product code:

2520
Availability:

in stock
---
A Pup's True Adventure and Triumph
by Kim Steinhardt
Publication Date: December 3, 2019
$17.95 US • Hardback • 9" x 9" • 32 pages
ISBN 978-1-61035-353-3
JUVENILE NONFICTION / Animals / Mammals
BISAC JNF003140
40 full-color photographs
Young readers will thrill to the exciting true wildlife survival story of Sabby the Sea Otter.
This wildlife adventure, illustrated with full-color photographs of real sea otters, gives children a fun introduction to marine life and the importance of wildlife habitats.
Sabby the Sea Otter is just a young pup, but his mom is teaching him everything about how to be a sea otter — how to dive underwater, how to find food in the ocean, and how to stay safe in a world full of danger. Sabby is insatiably curious — he wants to know everything about the bay he and his mom live in.
But one day, despite all his mom's warnings, Sabby's curiosity gets him in trouble when a rushing tide traps him in a human-made hazard, a great big pipe filled with water.
Now Sabby needs to learn how to survive on his own, while his mom fights every obstacle to find him and make sure he's safe.
Based on a true story of how a real-life sea otter pup and his mom were reunited, Sabby the Sea Otter is a heartwarming story of the love between a parent and child and a fun introduction for kids to the ocean and the animals who live there — plus an important lesson about how human activity affects wildlife.
Audience: Young readers, educators, and libraries.
About the Author: Kim Steinhardt is a writer and award-winning marine wildlife photographer whose stories and photos interpret the natural world for all ages and audiences. He has been an adviser and photo contributor to National Geographic Kids Explore My World series, and his work appears in other publications and on TV. In 2017, Steinhardt co-authored The Edge: The Pressured Past and Precarious Future of California's Coast, and he frequently writes and presents regarding sea otters, coastal advocacy, and the often-troubled relationship between humans and nature. He also serves as president of the board of directors of the Seymour Marine Discovery Center at the University of California at Santa Cruz.
---

Updating...