« Return to Previous Page
The Don Con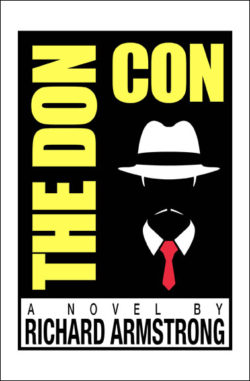 The Don Con
Old Price:

$14.95
Price:

$10.95
You save:

$4.00

(26.76%)
Product code:

2422
Availability:

in stock
---
by Richard Armstrong
The Mafia comes to Comic-Con and outrageousness ensues, in the new fast-paced suspense caper The Don Con.
A hilarious comic crime thriller in the tradition of Carl Hiaasen and Janet Evanovich, The Don Con. mixes suspense, razor-sharp pop culture satire and author Richard Armstrong's dry comic style into a delightful cocktail of pure entertainment.
Joey Volpe hit the high watermark of his acting career when he played a small role as a mobster on The Sopranos. If you blinked, you missed it.
But now he's unemployed, broke and forced to make a living by signing autographs at pop-culture fan conventions, or "Fan-Cons," for $35 a pop. His lack of income, along with his chronic womanizing, has put his marriage at risk, too.
Joey's life gets even worse when real mobster Tony Rosetti shows up in the autograph line with a plan to rob the next Fan-Con — an offer Joey can't refuse. When the heist goes awry, Joey is left with a beef with Rosetti and two long years to plan.
Partnered with a smooth-talking con man, Joey is using all his acting skills on new projects: Revenge. Money. And saving his marriage.
Combining the intrigue of Ocean's 11 and The Bank Job with pointed comic takes on The Sopranos, The Godfather, Comic-Con, Star Trek, The Sting and nerd culture, The Don Con. is a crime thriller / screwball comedy that will leave readers breathless with excitement and laughter.
Audience: Crime thriller / mystery readers, humor readers and pop culture fans.
About the Author: Richard Armstrong has been a freelance advertising copywriter for more than forty years. His previous books include Leaving the Nest: The Complete Guide to Living on Your Own; The Next Hurrah: The Communications Revolution in American Politics; and the world's only novel about direct mail, God Doesn't Shoot Craps. Armstrong's articles have appeared in National Review, Washingtonian Magazine, Advertising Age and many other publications. He lives with his wife Sharon and his dachshund Stardust in Washington, DC.
$14.95 U.S. • Trade Paperback • 5¼" x 8" • 270 pages
ISBN 978-1-61035-336-6
---

Updating...