« Return to Previous Page
Walking San Francisco's 49 Mile Scenic Drive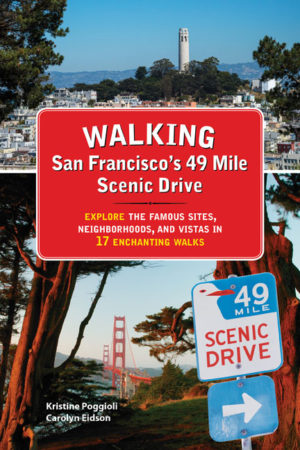 Walking San Francisco's 49 Mile Scenic Drive
Product code:

2021
Availability:

in stock
---
Explore the Famous Sites, Neighborhoods, and Vistas in 17 Enchanting Walks
by Kristine Poggioli and Carolyn Eidson
Every visitor to San Francisco has seen the classic roadside signs showing a seagull that beckons motorists to follow the famous 49 Mile Scenic Drive. Walking San Francisco's 49 Mile Scenic Drive shows how walking—rather than driving—San Francisco's famous scenic route gives both tourists and natives an active, fun way to enjoy and fall in love with the most beautiful city in the world.
Walking San Francisco's 49 Mile Scenic Drive invites readers to explore quirky locales face-to-face, so they can fully savor the City's beauty and cultural riches — while also enjoying a healthy urban hike.
Written by two long-time San Franciscans who have explored every nook and cranny of the 49 Mile Drive, Walking San Francisco's 49 Mile Scenic Drive presents 17 bite-size walks, complete with turn-by-turn instructions, maps, and historical facts and information. Each chapter introduces the sights, landmarks and secret treasures of a specific San Francisco neighborhood, while leading the reader along a route that will pro vide healthy  exercise for both brisk and sedate walkers.
Each chapter includes detailed maps, points of interest, info on bus routes and parking, recommendations for visiting hidden gems and must-see museums, plus plenty of tips and stats to help walkers, such as step counts and mile distances, hill steepness rating, weather tips and more.
The perfect guidebook for today's urban enthusiast who values walkable neighborhoods, hyperlocal culture and the pleasure and health benefits of walking, Walking San Francisco's 49 Mile Scenic Drive is the most intimate way to explore one of America's greatest cities.
Audience: San Francisco Bay Area residents, visitors to San Francisco, urban enthusiasts and hikers.
About the Authors: Kristine Poggioli is a native San Franciscan, copywriter and storyteller. Carolyn Eidson is an award-winning filmmaker and comedian. Together, they are the first people to have walked the entire length of San Francisco's 49 Mile Scenic Drive, resulting in a combined 75-pound weight loss.
$19.95 • Trade Paperback • 6" x 9" • 180 pages
ISBN 978-1-61035-279-6
---

Updating...