« Return to Previous Page
Designed to Move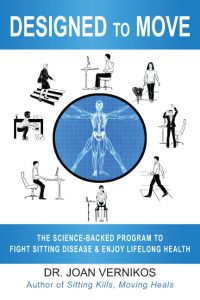 Designed to Move
Product code:

2027
Availability:

in stock
---
The Science-Backed Program to
Fight Sitting Disease and Enjoy Lifelong Health
by Dr. Joan Vernikos
Losing your strength, balance, and stamina is not a natural part of aging.  So why do so many of us gradually become disabled and lose our independence as we grow older? The chief culprit is prolonged, uninterrupted sitting caused by office work, long commutes, and modern sedentary living. The human body is designed to move, not stay still for hours at a time.
Dr. Joan Vernikos, former director of NASA's Life Sciences Division and pioneering researcher in the physiology of immobility, has done groundbreaking research on how sitting disease causes poor health and premature aging.
In Designed to Move, Dr. Vernikos shows how you can fight sitting disease through simple movements you can do anywhere — at your office, at home, and even in your car.
Citing her NASA research on the physiology of space travel, Vernikos shows how the health effects of prolonged sitting are identical to the muscle and bone degeneration suffered by astronauts in microgravity. The human body evolved to constantly resist gravity, and removing gravity — either through actual weightlessness or simple inactivity — slowly destroys the body's health and prematurely ages the body.
Fortunately, adding gravity-resistant movement back into your daily routine can quickly restore good health, and Designed to Move will show you exactly how to do it. Designed to Move presents a simple, easy-to-follow, science-based movement program to help you regain your good health and stay healthy for the rest of your life.
The Designed to Move program offers a variety of easy, low-impact exercises that can dramatically improve your strength, balance, mood, and long-term health.
Written for everyone who wants to feel healthier and stronger — at any age — Designed to Move is the science-backed solution to sitting disease that will keep you healthier, fitter, and more energetic.
About the Author: Joan Vernikos, Ph.D., the former director of NASA's Life Sciences Division, is a pioneer in space medicine research and a leading researcher in healthy aging. Her previous books include Sitting Kills, Mov-
ing Heals, available from Quill Driver Books.
$12.95 ($16.95 Canada) • Trade Paperback • 6" x 9" • 128 pages
ISBN 978-1-61035-271-0
---

Updating...