« Return to Previous Page
DR. RUTH'S GUIDE FOR THE ALZHEIMER'S CAREGIVER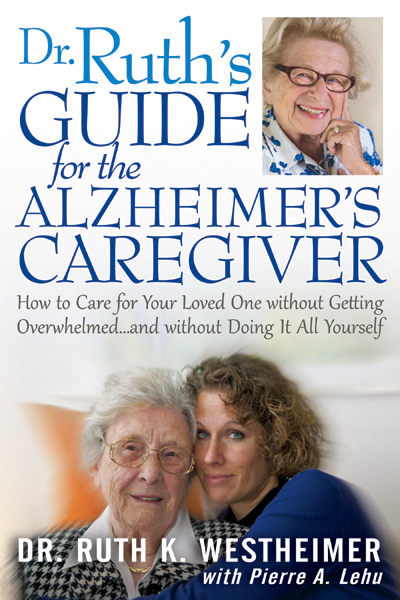 DR. RUTH'S GUIDE FOR THE ALZHEIMER'S CAREGIVER
Product code:

671
Availability:

in stock
---
Subtitle: "How to Care for Your Loved One without Getting Overwhelmed…and without Doing It All Yourself"
One of America's most trusted names in relationship therapy brings much-needed help to overburdened caregivers in Dr. Ruth's Guide for the Alzheimer's Caregiver.
Dr. Ruth has a simple and straightforward message for Alzheimer's caregivers: You are not alone. There are resources and a community that can give you the help you need to take care of your loved one and have a life, too. Dr. Ruth knows you need help and she presents the best strategies, tactics, tips, tricks, resources and attitudes to create the most supportive environment possible for you and your loved one.
---
Additional Description

Dr. Ruth's Guide for the Alzheimer's Caregiver presents coping strategies for both the practical problems and emotional stresses of Alzheimer's care. Dr. Ruth shows you how to avoid caregiver burnout; get effective support from family and friends; resolve family disputes; maintain your relationship with a spouse or parent with Alzheimer's; manage behavior; make your home safe; and deal effectively with doctors, care providers and facilities.

Dr. Ruth's Guide for the Alzheimer's Caregiver takes a brisk, practical, reassuring and uncondescending approach to Alzheimer's care. Dr. Ruth provides real solutions to the problems that can be solved without pretending that Alzheimer's disease is easy to deal with.

About the Authors: Dr. Ruth K. Westheimer is a psychosexual therapist who pioneered speaking frankly on sexual matters on her radio program "Sexually Speaking". Dr. Westheimer is the author of over 35 books and the syndicated column "Ask Dr. Ruth". Pierre A. Lehu has written 20 books on a variety of topics.

Table of Contents

Part One: Advice from Dr. Ruth
1. How to Help Yourself
2. Feelings
3. You Get to Have a Life Too
4. When You're taking Care of a Spouse
5. When You're Taking Care of a Parent or Other Relative
6. Dealing with Professional Caregivers
7. Helping Children and Grandchildren to Cope

Part Two: Standing on the Shoulders of Giants
8. Treating Alzheimer's
9. Tips for Caregivers
10. Where You Can Get Help
11. Facilities
12. Legal and Financial Issues

Appendices: Common Abbreviations; Internet Resources

For the Media

Updating...