« Return to Previous Page
Boudoir Coloring Book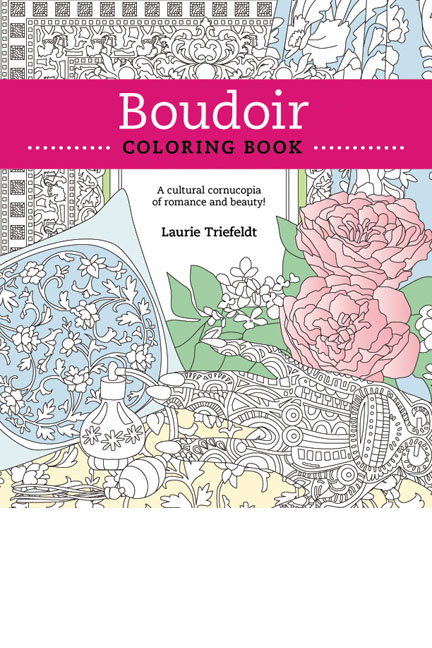 Boudoir Coloring Book
Product code:

2003
Availability:

in stock
---
A Cultural Cornucopia of  Romance and Beauty!
Illustrated by Laurie Triefeldt

Publication Date: August 2016
Adult coloring books are taking the publishing world by storm—or perhaps it would be better to say, by a calming wave. As a meditative refuge from the modern world of constant overstimulation, 24/7 activity schedules, and incessantly blinking and beeping electronic devices, coloring books are giving adults a
new way to relax, explore their creative sides, and focus their minds.
Every woman needs a room of her own, a meditative space where the bustle of the outside world can be forgotten. Every coloring book fan who loves a touch of feminine glamour and elegance can find their own private place in the enchanting world of Boudoir Coloring Book.
Designed by renowned artist Laurie Triefeldt, Boudoir Coloring Book offers hours of creative absorption in a personal world of calmness and beauty. These intricate images of elegant ladies, vanity tables, perfume, make up, and flowers will transport colorists to a place of rest and relaxation.
Boudoir Coloring Book is especially designed to provide a high-quality coloring experience. Thick, high-quality paper, printed on only one side, gives a smooth, firm coloring surface with no bleed-through, and perforated pages let colorists share and preserve their creative work. A calming private place far from stress, Boudoir Coloring Book gives colorists their own personal world.
About the Illustrator: Laurie Triefeldt was born and educated in Toronto, Canada. She is a graduate of the Ontario College of Art and the University of Windsor. Triefeldt is the creator of World of Wonder, the award-winning syndicated weekly illustrated newspaper feature exploring the educational themes of history, science, nature and technology, appearing in more than 100 newspapers worldwide. Triefeldt is also the author and illustrator of World of Wonder: Plants and Animals, World of Wonder: People and Places, and Elegant Tea Party Coloring Book, all available from Quill Driver Books.
$14.95 ($18.95 Canada) • Trade Paperback • 8½" x 10" •
144 pages
ISBN 978-1-61035-286-4
Available for Pre-Order Now. Will ship upon publication.
---

Updating...