« Return to Previous Page
Crystal Meadows Coloring Book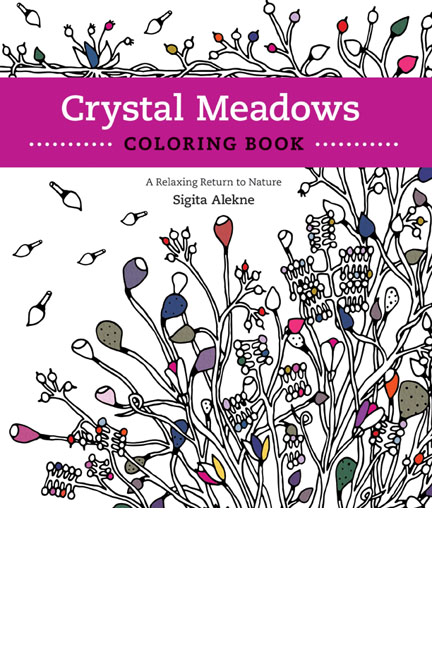 Crystal Meadows Coloring Book
Product code:

1985
Availability:

in stock
---
A Relaxing Return to Nature
Illustrated by Sigita Alekne
Available now!
Adult coloring books are taking the publishing world by storm—or perhaps it would be better to say, by a calming wave. As a meditative refuge from the modern world of constant overstimulation, 24/7 activity schedules, and incessantly blinking and beeping electronic devices, coloring books are giving adults a
new way to relax, explore their creative sides, and focus their minds.
In today's world of constant motion and distraction, we all yearn for a return to the calming world of nature. Coloring book fans will love taking a restorative excursion into the organic world of Crystal Meadows Coloring Book. Colorists will lose themselves for hours in these intricate, otherworldly images of plants, flowers, and trees.
Designed by Lithuanian artist Sigita Alekne, the images in Crystal Meadows Coloring Book reflect Alekne's unabashed love of nature and living things. Crystal Meadows Coloring Book is especially designed to provide a high-quality coloring experience. Thick,high-quality paper, printed on only one side, gives a smooth, firm coloring surface with no bleed-through, and perforated pages let colorists share and preserve their creative work.
Like a cool walk into a primeval forest, Crystal Meadows Coloring Book will calm your restless spirit and refocus your artistic mind.
About the Illustrator: Sigita Alekne was born in 1985 in Telsiai in northwest Lithuania. Raised in the countryside, Alekne grew up close to nature and has always been fascinated by the beauty and calmness of the natural world. Alekne graduated in 2011 with a master's degree in human rights from the law school of Mykolas Romeris University and has worked for the Lithuanian national LGBT rights organization, one of the oldest human rights organizations established in Lithuania since its independence from the Soviet Union. For the last five years, she has dedicated herself to her artistic work. Alekne is married and lives in Vilnius.
$12.95 ($16.95 Canada) • Trade Paperback • 8½" x 10" •
104 pages
ISBN 978-1-61035-285-7
---

Updating...