« Return to Previous Page
ManipuRATED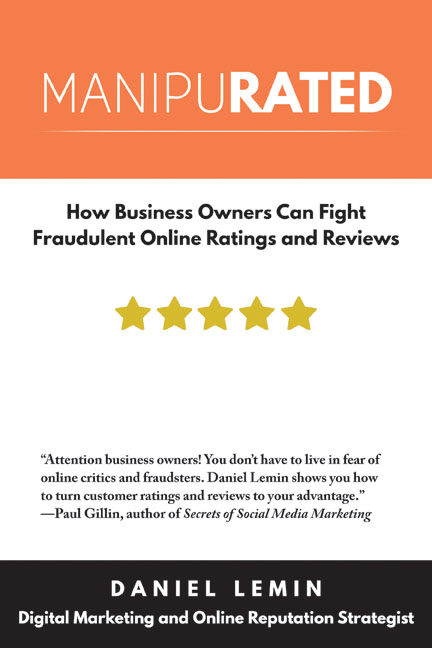 ManipuRATED
Product code:

1853
Availability:

in stock
---
How Business Owners Can Fight Fraudulent Online Ratings and Reviews
by Daniel Lemin
Now Available!
Small businesses today live or die by their reputations on Yelp, CitySearch, Angie's List and other online ratings and reviews sites.
Online reviews can make or destroy a new deli, salon, café or boutique in the very first weekend of business. Few business owners understand that their business can be permanently destroyed by a few bad reviews, and even fewer know the skills and tactics to effectively manage their online
reputations.
ManipuRATED offers business owners a guide to understanding how online review sites really work — and more important, how they can turn the tables and make online reviews an asset to their businesses.
Online reputation strategist Daniel Lemin brings transparency to the opaque world of online reviews, where reviewers may not be real people, undocumented algorithms decide which reviews to highlight, and review site operators frequently demand payment for good reviews. ManipuRATED exposes the shady manipulations that underlie the multibillion-dollar industry of online reviews and explains how the online reviews system is systematically biased against the businesses it covers.
ManipuRATED gives business owners the strategy and weapons they need to fight back against the corrupt online ratings system. ManipuRATED presents a step-by-step plan for improving online ratings. ManipuRATED teaches business owners how to track what people are saying about their businesses online; how to make every review, good or bad, a marketing asset; how to respond to reviews — and when not to; how to recruit your best customers to write fresh reviews; how to publicize good reviews; and more.
Both a warning and a call to action, ManipuRATED is a must-read for all small business owners who depend on online reviews.
About the Author: An early Google hire, Daniel Lemin was one of the first pioneers to realize the importance of online reviews to small businesses. Lemin is an acknowledged expert on digital marketing, public relations, and reputation management and is a consultant for prominent Fortune 500 companies.
$14.95 ($18.95 Canada) • Trade Paperback • 6" x 9" • 160 pages
ISBN 978-1-61035-262-8
Business/Internet Marketing • BISAC BUS090010 • Index
---

Updating...