« Return to Previous Page
PASSION PROJECTS FOR SMART PEOPLE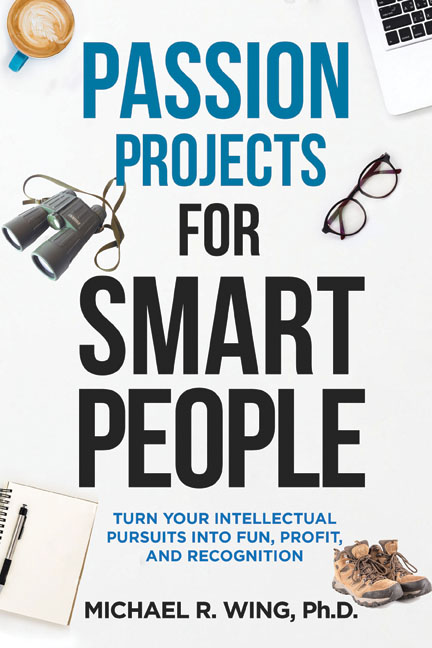 PASSION PROJECTS FOR SMART PEOPLE
Product code:

2215
Availability:

in stock
---
Turn Your Intellectual Pursuits into Fun, Profit, and Recognition
by Michael R. Wing, Ph.D.
Today's workforce is highly educated and underemployed, and many of us are in jobs that don't fully use our skills, talents and interests. Passion Projects for Smart People is a unique career guide that shows how to do serious intellectual work in your spare time — and turn side projects into career-building opportunities.
Written by a high school science teacher who has done field work in six countries, published in professional journals and worked with NASA, Passion Projects for Smart People provides a blueprint for leveraging your intellectual interests to develop your career and earn professional recognition.
Passion Projects for Smart People shows how to become an intellectual entrepreneur and launch your own academic, scientific and artistic projects. Author Michael R. Wing dives into the nuts and bolts of how he created his own research projects in marine biology, high altitude gardening, astrobiology and archaeology.
Wing also profiles others who have created fascinating projects in backyard science, nature surveys, history, art, anthropology, poetry, conservation and more. These projects have also earned their creators substantial conventional success: book publishing deals, museum exhibits, art commissions, opportunities to teach and lecture, paid positions on scientific expeditions, and even full-time employment.
Passion Projects for Smart People provides specific strategies for making your project a success: how to form alliances with institutions, collaborate with others, apply for grants and travel opportunities, publish your work, and teach and mentor others.
The perfect career guide for the era of the Ph.D. barista, the underpaid adjunct and the gig economy, Passion Projects for Smart People will help you take charge of your career and your life.
Audience: Career advice readers, aspiring and established professionals, and anyone seeking fulfilling work.
About the Author: Michael R. Wing, Ph.D., is a high school science teacher in Anselmo, California. He has done field work throughout the world and worked in collaboration with NASA, the University of California, the Mars Institute, the National Oceanic and Atmospheric Administration and the National Park Service.
$14.95 US • Trade Paperback • 6" x 9" • 180 pages
ISBN 978-1-61035-306-9
---

Updating...