« Return to Previous Page
START YOUR OWN HOME BUSINESS AFTER 50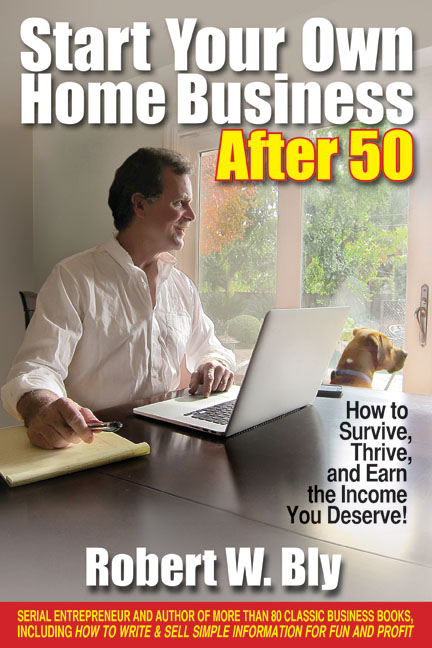 START YOUR OWN HOME BUSINESS AFTER 50
Product code:

1057
Availability:

in stock
---
If you're 50 or older, it's time for you to take control of your destiny and build the secure future you deserve. Start Your Own Home Business After 50 will show you how to take charge of your retirement income by building a successful and profitable business you can operate from the comfort of your own home.  Legendary business consultant and serial entrepreneur Robert W. Bly shows you how to leverage your skills and experience to achieve the income you've always wanted, be your own boss, and survive and thrive under any economic conditions.
Written for people who are old enough to already know who they are, Start Your Own Home Business After 50 doesn't waste time on identity-building exercises, but instead pinpoints eight key business opportunities that are particularly suitable for after-50 entrepreneurs.
---
Table of Contents

The Over-50 Entrepreneur; Freelancing; Consulting; Coaching; eBay; Internet Marketing; Close-Outs; Import/Export; Real Estate; Launching Your New Business; Setting up Your Home Office; Marketing and Promoting Your New Business; Becoming a Thought Leader in Y our Niche; Operating as a Virtual Company

About the Author

Robert W. Bly has been a professional writer since 1979 and a full-time freelance writer since 1982. He earns more than $600,000 a year from his freelance writing and is a self-made multi-millionaire. Bob is the author of over 80 books including Careers for Writers (McGraw-Hill/VGM), Secrets of a Freelance Writer (Henry Holt), The Copywriter's Handbook (Henry Holt), The Elements of Technical Writing (Alyn & Bacon) and The Elements of Business Writing (Alyn & Bacon).

McGraw-Hill calls Bob Bly "America's top copywriter," and he was named 2007 Copywriter of the Year by American Writers and Artists, Inc.. His copywriting clients include such publishers as Kiplinger, Boardroom, Phillips, Agora, KCI, Nightingale-Conant and Medical Economics.

He has published more than 100 articles in Amtrak Express, Cosmopolitan, Writer's Digest, DM News, New Jersey Monthly, City Paper and many other publications.Bob writes regular columns for Target Marketing, a monthly trade publication covering the direct marketing industry; Early to Rise, a daily e-newsletter on business success; and The Writer. The Direct Response Letter, Bob Bly's free e-newsletter, has over 50,000 subscribers.

Bob has given lectures on marketing, writing and freelancing to numerous groups, including the American Writers and Artists Inc., National Speakers Association, Learning Annex, American Seminar Leaders Association and the American Society of Journalists and Authors. He is a member of the Specialized Information Publishers Association and the American Institute of Chemical Engineers.

For the Media

Updating...