« Return to Previous Page
The Great American Shopping Experience: The History of American Retail from Main Street to the Mall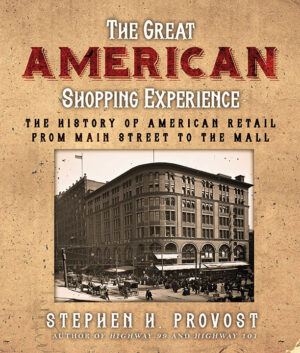 The Great American Shopping Experience: The History of American Retail from Main Street to the Mall
Product code:

2870
Availability:

in stock
---
Please note: We accept PayPal only on the website. For credit card orders, please call us at 800-345-4447. Thank you!
by Stephen H. Provost
Publication Date: January 11, 2022 (now available!)
A fun, nostalgic look at the great stores of yesteryear

The wealthy and leisured lady of the 1920s shopped in a palatial downtown department store with a restaurant, beauty parlor, movie theater, and live orchestra—the harried suburban mom of today rushes her purchases through the self-checkout at the big box store. The Great American Shopping Experience explains how this transformation happened in a fascinating and entertaining history of the growth and decline of America's massive retail empires.
From the humble 19th century dry goods store to the majestic department stores of the early 20th century to the shopping malls and outlet stores of today, The Great American Shopping Experience tells the romantic story of Americans' relentless pursuit of the better bargain, surveying the changing fashions, social ideals, and marketing innovations that created shopping as we know it.
The Great American Shopping Experience also takes a nostalgic look back at the stores we loved, from the small regional stores that were gobbled up to the big chains that still survive today. If you've ever wondered what happened to your favorite store, The Great American Shopping Experience has the answers.
A popular history that is both fun and compelling, The Great American Shopping Experience tells an epic story of capitalism's powers of creative destruction, the repeated transformation of American society, fortunes made and unmade—and the great times and amazing deals we had along the way.
$24.95 US • Trade Paperback • 8.5" x 10" • 216 pages • 128 Historic black and white photos • Bibliography • Index
ISBN 978-1-61035-991-7
---

Updating...