« Return to Previous Page
SHIPBUILDER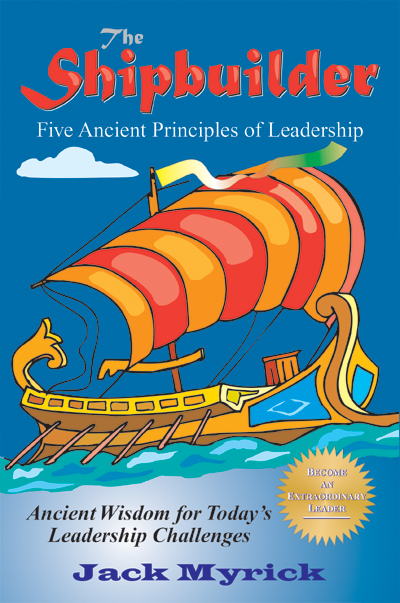 SHIPBUILDER
Product code:

738
Availability:

in stock
---
Five Ancient Principles of Leadership
by Jack Myrick
New Paperback edition.
Publication Date: November 2015
Everything rises and falls on leadership. Leadership is the most critical ingredient in any organization. We all understand the importance of good leadership and know it when we see it, but describing or teaching  leadership is elusive at best.
A lot is written about leadership and its many philosophies. Words and phrases such as "hierarchal structures,"  "reframing," "leader charisma," "stewardship," "stakeholders," "lines of authority," "distribution of power,"  "lateral thinking," "implementation by objective," "systems thinking," "group cohesiveness," and "transactional  leadership," get bandied about.
Programs that somehow manage to be both complex and imprecise are offered as the path to effective leadership. But is being a good leader really all that complicated? Are there intricate techniques to be analyzed, mastered, and applied? Or, is it that great leaders are born, not made? The answer to these questions is, "absolutely not."
With The Shipbuilder, speaker and business leader Jack Myrick shares five simple, time-proven principles that,  are guaranteed to make you an extraordinary leader. This delightful business management allegory set in ancient  Greece teaches the Five Principles of Leadership.
In The Shipbuilder, the reader will learn how to: 1) Get more done with fewer people; 2) Supervise less;  3) Build teamwork; 4) Decrease employee turnover; and 5) Improve everyone's morale — including the  leader's!
Audience: Business executives and managers, nonprofit organization leaders, academic leaders, political and  community leaders, clergy, business students, and everyone who needs to be a more effective leaders.
About the Author: Jack Myrick is president and founder of Management Solutions, a management training  company, as well as head of Myrick Enterprises, a restaurant development group.
"Five valuable lessons in leadership that could profitably be tattooed inside the eyelids of managers everywhere."   —Daniel Hood, Accounting Today
Available for pre-order now. Publication date: November 15, 2015
$12.95 ($13.95 Canada) • Trade Paperback • 6" x 9" • 96 pages
ISBN 978-1-61035-255-0
---

Updating...