If You Want It Done Right, You Don't Have to Do It Yourself!
The Power of Effective Delegation
Increases job performance
Relieves job burnout
Boosts confidence
Reduces errors
Improves relationships among coworkers
Fosters competency
Decreases workloads
Builds teamwork
Elevates employee morale
Alleviates stress
Ensures successful results
Gets more done and on time
Is the key to reintroducing energy and passion into your job
Will change your life
---
Help Your Kids Get It Done Right at Home and School!
Building Self-Esteem and Responsibility in Children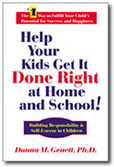 Children achieve better grades with less effort.
Children gain self-esteem.
Parents and kids enjoy their time together more.
Children understand and accept their boundaries.
Parents and kids have more free time for the things they enjoy.
A caring, team atmosphere develops at home.
Unnecessary frustration is eliminated for everyone.
Children fulfill their potential.