« Return to Previous Page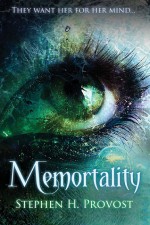 by Stephen H. Provost
From Pace Press.
When Minerva Rus' dead childhood friend returns to life, she discovers she has the power to raise the dead — plunging her into amazing possibilities and terrifying danger.
Memortality is a genre-breaking new contemporary fantasy novel that poses one of the most frightening questions of all — what if the dead don't stay dead? We all fantasize about reuniting with lost loved ones, but would any of us want to be responsible for wielding such power? And if good people can be revived, what about evil ones?
Minerva's life has never been the same since the childhood car accident that paralyzed her and killed her best friend, Raven. But when the long-dead Raven reappears in her life, now as a very attractive grown man, she discovers that her photographic memory has the power to bring the dead back to life … heal her paralysis … and shape reality itself.
Pursued by a rogue government agent who wants to eliminate her and her talents, Minerva must learn to control her powers to save herself and Raven. Because if she dies, Raven will die as well — again.
Racing to learn the secret of how and why her powers operate, finding unlikely allies, facing a truly frightening villain and battling her own demons from her abusive childhood, Minerva finds that she is fighting not just living evil, but the terrifying prospect of bringing back an evil that had been long defeated.
Featuring an intrepid, take-charge female protagonist who lets nothing — not disability, not death, not loss and heartbreak — stand in her way, Memortality blends fantasy, mystery, espionage and romance in a compelling story that will keep readers gripped until the final, startling revelation.
Audience: Contemporary fantasy readers from young adult to adult.
About the Author: Stephen H. Provost is a journalist and author. He has worked as an editor, reporter, and columnist at newspapers throughout California. He is the author of Fresno Growing Up: A City Comes of Age 1945–1985, a history of his hometown. Provost lives with his wife on California's Central Coast, where he is the editor of The Cambrian  newspaper. Provost frequently blogs on writing and current events at his website, stephenhprovost.com.
$14.95 ($18.95 Canada) • Trade Paperback • 6″ x 9″ • 270 pages
ISBN 978-1-61035-289-5
by James A. Ardaiz
From Pace Press.
A young assistant DA takes on an elusive serial killer and a flawed justice system in this gritty debut legal thriller, the first in a new series.
Assistant DA Matt Jamison is called to a meticulously staged crime scene on a canal bank in rural Central California — the latest in a series of murders that have killed three young women in one month. A serial killer is on the loose and adept at hiding his tracks. And before the murderer can be brought to justice, Jamison will lose his illusions about what justice means.
As a fourth victim is abducted and investigators race against time, Jamison must cope with a sophisticated and evasive killer, a politically-minded sheriff eager to claim credit and spread blame, and mounting pressure to resolve a high-profile case.
The stakes get higher when Jamison brings a shaky prosecution to court and must manage an arrogant defense attorney, a smoothly lying defendant and a fragile witness. And while Jamison struggles to convict a murderer, events outside his control will test his trust in the justice system and the fallible human beings who operate it.
Written by a former investigator, prosecutor and judge who intimately knows the world of attorneys, detectives and men who kill, Fractured Justice crackles with authenticity, realistically depicting the lives of the all-too-human people who enforce the law and the messy compromises they make in their work.
Featuring an intricate plot, a chillingly sophisticated villain, a dogged and determined protagonist and a clear-eyed assessment of how the justice system operates, Fractured Justice is a gripping, fast-paced and coldly realistic thriller — and a stunning debut novel by a remarkable new mystery writer.
Audience: Legal thriller and mystery readers.
About the Author: James A. Ardaiz is a former prosecutor, judge and Presiding Justice of the California Fifth District Court of Appeal. Ardaiz's first book was Hands Through Stone , a nonfiction account of his investigation and prosecution of murderer Clarence Ray Allen, the last man executed by the State of California.
$16.95 US • Trade Paperback • 6″ x 9″ • 350 pages
ISBN 978-1-61035-298-7
by Daniel Stallings
"An Agatha Christie cast of characters seen with a modern eye, and with startling moments of both insight and compassion." —Anne Perry
The traditional murder mystery collides with an entirely different kind of detective hero in the new mystery novel Sunny Side Up. An engaging mixture of Agatha Christie–style intrigue and Millennial snark, Sunny Side Up takes a fresh approach to the traditional murder mystery with a modern sensibility and a working class amateur sleuth.
For 20-year-old Liam "Li" Johnson, a job as a cruise ship waiter was supposed to be a way to get over his father's death and earn enough money to go back to college. Instead, Li is struggling to maintain his sanity while coping with the demands of a sadistic maître d' and a boatload of entitled rich jerk passengers.
Li just wants to keep his head down and survive his job from hell, but when he finds a passenger sunburned to a crisp on the Sunbathing Deck, something about the scene just doesn't add up. Li starts asking uncomfortable questions … and gets some forceful pushback, including a whispering campaign suggesting that Li himself may have had something to do with the victim's death.
Before he knows it, Li is on the track of a murder … and if Li doesn't find the real killer soon, or he might just get framed for the crime — or worse, lose his crappy job.
A brand-new classic in the amateur detective genre, Sunny Side Up is a traditional murder mystery for the 21st century, with a glamorous setting, a gallery of suspects, clues that will keep readers guessing to the last page, and a delightful new hero in Li Johnson, the millennial minimum wage manhunter, who brings sleuthing to the service economy.
Audience: Lovers of traditional murder mysteries.
About the Author: Daniel Stallings' love of Golden Age detective fiction inspired him to bring the style of the classic murder mystery to modern audiences. In addition to writing mysteries, Stallings works in theater as a producer, director, and actor. He currently serves as President of the Eastern Sierra Branch of the California Writers Club. Stallings lives in the city of Ridgecrest in California's Mojave Desert.
AVAILABLE NOW!
$12.95 US • Trade Paperback • 6″ × 9″ • 206 pages
ISBN 978-1-61035-311-3
Book II of The Memortality Saga
by Stephen H. Provost
Available now from Pace Press and Quill Driver Books (imprints of Linden Publishing).
Somebody wanted Minerva Rus dead. They succeeded. But Minerva isn't letting a little thing like death stop her.
In Memortality, the first book of The Memortality Saga, young Minerva Rus discovered that she had the Gift, the power to bring the dead back to life, reuniting her with her long-lost love Raven, but also plunging her into unimaginable danger. Because Minerva is not the only one with the Gift, and the power of resurrection can also bring back long-dead evil, with fatal results for Minerva.
Now, in Paralucidity, the second book of The Memortality Saga, Minerva's adventures continue postmortem, with even higher stakes — the fate of the world.
After the dangerous adventure that killed her, Minerva has reconciled herself to being dead. She's enjoying her romance with Raven and the companionship of the friends she has made — Carson, the taciturn secret agent, and Amber, the confident, self-assured doctor who has appointed herself Minerva's big sister. The renegade government operator Jules, Minerva's worst enemy, has been banished from reality and trapped in her own mind. It seems like Minerva is free to enjoy the eternity of her unnatural life.
But immortality isn't safe. Minerva and Raven's life-giving powers mysteriously fade, forcing them to take refuge in The Between, a shadowy realm of memories that lies between life and death. What's more, their old adversary Jules is on the loose, partnered with a resurrected Nazi scientist planning a monstrous experiment that will change the destiny of the human race.
And now it's up to a 21-year-old dead girl to save the world — again.
Audience: Contemporary fantasy readers from young adult to adult.
About the Author: Stephen H. Provost is a journalist and author. He has worked as an editor, reporter, and columnist at newspapers throughout California. He is the author of Fresno Growing Up: A City Comes of Age 1945–1985, a history of his hometown; Highway 99: The History of California's Main Street; and Memortality, the first book in the contemporary fantasy Memortality Saga.
$14.95 US • Trade Paperback • 6″ x 9″ • 266 pages
ISBN 978-1-61035-318-2
FICTION / Contemporary Fantasy • BISAC FIC009010

Updating…