« Return to Previous Page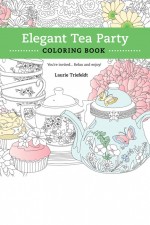 You're Invited … Relax and Enjoy!
Illustrated by Laurie Triefeldt
Adult coloring books are taking the publishing world by storm—or perhaps it would be better to say, by a calming wave.
As a meditative refuge from the modern world of constant overstimulation, 24/7 activity schedules, and incessantly blinking and beeping electronic devices, coloring books are giving adults a new way to relax, explore their creative sides, and focus their minds.
Coloring book fans are invited to ease their tensions and invigorate their creativity in the immersive world of Elegant Tea Party Coloring Book. Hand-drawn by acclaimed artist Laurie Triefeldt,  these 70 absorbing illustrations of cups, saucers, teapots, muffins, and flowers will give colorists hours of calming focus.
Triefeldt's illustrations range from intricate geometric patterns on fine bone china to fluid, organic shapes of floral prints, cut flowers, and even a kitten in a tea cup. These complex images offer colorists endless opportunities to create personalized works of art through use of color and shade. And the tea party theme adds a special touch of civilized comfort and relaxation that immediately calms a busy mind.
Elegant Tea Party Coloring Book is especially designed to provide a high-quality coloring experience, using thick paper, printed only on one side, to offer a smooth, firm coloring surface with no bleed through.
Like a rich cup of tea,  Elegant Tea Party Coloring Book is a relaxing and stimulating break in one's busy day.
Audience: Adult coloring book fans.
About the Illustrator: Laurie Triefeldt was born and educated in Toronto, Canada. She is a graduate of the Ontario College of Art and the University of Windsor. Triefeldt is the creator of World of Wonder, the award-winning syndicated weekly illustrated newspaper feature exploring the educational themes of history, science, nature and technology, appearing in more than 100 newspapers worldwide. Triefeldt is also the author and illustrator of World of Wonder: Plants and Animals, World of Wonder: People and Places, and the forthcoming
Boudoir Coloring Book, all available from Quill Driver Books.
$14.95 ($18.95 Canada) • Trade Paperback • 8½" x 10″ • 144 pages (70 illustrations)
ISBN 978-1-61035-284-0

Updating…