« Return to Previous Page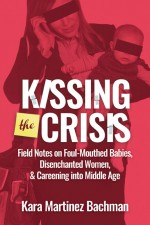 Field Notes on Foul-Mouthed Babies, Disenchanted Women, & Careening into Middle Age
by Kara Martinez Bachman
Life doesn't end at 40. It just gets really, really weird. In Kissing the Crisis, humorist Kara Martinez Bachman takes on middle age with a kick-ass Generation X attitude and a willingness to try anything. Bachman's comic essays recount her many absurd adventures in her forties, presenting a decidedly female approach to the midlife crisis.
Written for every woman who knows that turning 40 is no reason to become respectable, Kissing the Crisis is the field guide you need to blaze your own unconventional trail through the jungle of middle age. Bachman reports from the front lines of the battle to stay awake after 9 p.m., and her adventures will make you scream with laughter, cringe with embarrassment, and vow to tackle your own midlife crisis with a can-do attitude and a tasty cocktail.
Kissing the Crisis tells of Bachman's fearless exploits such as searching for a child-friendly bar and grill for a parents' drinking night; reigniting her rock 'n' roll lifestyle by founding the world's greatest ukulele-harp goth band; futilely trying to shush a foul-mouthed toddler shrieking obscenities in the grocery story, while everyone judges her for being a bad mother; overcoming her lifelong beliefs about gun control to learn target shooting—and absolutely loving it; and her many other wild attempts to live life after 40 to the fullest, even in the face of the harshest mommy judgment.
Bachman is a fresh, new, irreverent voice in humor, the spokeswoman of today's middle-aged people, Generation X, who long ago lost the media's attention but have been quietly redefining middle age as a time of freedom to be yourself without apologies. Kissing the Crisis is an inspiration to all of us living with a youthful spirit that says "Yes!" to adventure and a middle-aged body that says "Meh … let's get ice cream instead."
About the Author: Kara Martinez Bachman is a New Orleans-based freelance writer. Her work has appeared in the New Orleans Times-Picayune, NOLA.com, The Writer, Funny Times, NPR's State of the Re:Union, Ellipsis, Magnolia Quarterly, the 10-year anniversary of Hurricane Katrina retrospective, Katrina Memoirs, and numerous other publications.
$14.95 ($18.95 Canada) • Trade Paperback • 6″ x 9″ • 146 pages
ISBN 978-1-61035-290-1

Updating…