« Return to Previous Page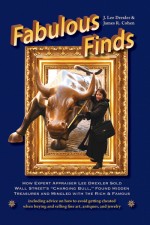 Fabulous Finds: How Expert Appraiser Lee Drexler Sold Wall Street's Charging Bull, Found Hidden Treasures and Mingled with the Rich & Famous gives readers an insider's experience of the glamorous world of high-value art and antiquities deals, as lived by Lee Drexler, a leading appraiser of fine art, furniture, antiques and jewelry for over 35 years.

Drexler reveals the inside story on many of the unique, high-profile appraisals she's performed in her career,  including her legendary appraisal of Charging Bull, the iconic Wall Street statue. Every art object has a human  story behind it, and Drexler's work on evaluating the possessions of the wealthy, famous, tasteful and vulgar has  given her a novelist's eye for bizarre tales and revelations of human character.

Fabulous Finds dishes on Drexler's memorable and revealing encounters with celebrities, including Dr. Ruth Westheimer and Luciano Pavarotti, as well as some comic situations she'd rather forget—like when a famous  rock star tried to get her into his bed. From the Hollywood star who treated Drexler like an honored guest, to the  billionaire's wife who begrudged her a few pieces of lettuce, to the beautiful young trophy wife who showed up  for an appraisal nude, Fabulous Finds shows fascinating people being themselves.

Fabulous Finds also offers a wealth of insider's advice on how to get the most out of buying and selling fine art,  furniture, jewelry, antiques and collectibles. Drexler's advice won't make you an instant expert— but her hard- won knowledge of the inside world of art appraisals will help anyone to avoid being cheated. You'll never look at antiques—or the people who buy and sell them—the same way again.

Updating…