« Return to Previous Page
Please note: We accept PayPal only on the website. For credit card orders, please call us at 800-345-4447. Thank you!
by Jonathan Cristall, Esq.
Publication Date: October 6, 2020
The 21st century guidebook of life safety skills for teens, their parents, and other caregivers, covering physical safety, sexual consent, social media, your rights with the police, situational awareness, dating violence, smartphones, and more.
Young people coming of age today face new risks, expectations, and laws that didn't exist when their parents were young. What They Don't Teach Teens provides teens, tweens, and young adults with up-to-date, realistic strategies to protect themselves against the pitfalls of modern adolescence.
Author Jonathan Cristall, once a troubled teen himself and now a veteran prosecutor for the City of Los Angeles, works extensively with teenagers and their families to teach physical, digital, emotional, and legal safety skills. Drawing on Cristall's hands-on experience, What They Don't Teach Teens gives parents and other caregivers techniques for talking to their children about these urgent issues.
What They Don't Teach Teens gives sound advice on police interactions and personal safety (your constitutional rights, what to do/not do when stopped by the police while driving, situational awareness, street robberies, gun violence); sexual violence and misconduct (sexual consent, sexual harassment prevention, dating violence, sextortion); and staying safer online (digital footprint and citizenship, cyberbullying, underage sexting, online porn).
A must-read for all families, What They Don't Teach Teens is filled with practical guidance, thoughtful insight, and simple-to-use tips and tactics that will empower teens and others to make good choices now and in the future.
$19.95 US • Trade Paperback • 6″ x 9″ • 320 pages
ISBN 978-1-61035-358-8
Please note: We accept PayPal only on the website. For credit card orders, please call us at 800-345-4447. Thank you!
by Dennis Gazarek
Publication Date: December 1, 2020
A diagnosis and a prescription for a generation of young men in crisis, Be the Awesome Man is a must-read guide for young men who want to achieve lasting success and personal happiness.
Young men are underachieving in unprecedented numbers. More and more young men are not attaining standard benchmarks of maturity, such as entering and graduating from higher education, finding a career, establishing their financial independence, and living on their own. Be the Awesome Man approaches the challenges of being a young man from a unique and practical perspective. Written in a sensible, easy-to-read format, Be the Awesome Man delves into the roots of male underachievement and provides practical guidance for young men and their parents, teachers, ministers, coaches, and other mentors.
Drawing on real-world experience as a coach, mentor, and father, author Dennis Gazarek provides methods to counter the negative influences that encourage underachievement, and shows how effective decision making can lead to a better life. Be the Awesome Man emphasizes that freedom requires responsibility and offers specific guides and advice for taking full responsibility and control over one's life.
Combining old-fashioned wisdom, a critical analysis of modern culture, and a pragmatic program of character development, Be the Awesome Man offers a better way of life for young men who want to break out of mediocrity and underachievement.
$18.95 US • Trade Paperback • 6″ x 9″ • 260 pages
ISBN 978-1-61035-337-3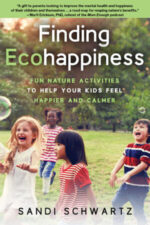 Please note: We accept PayPal only on the website. For credit card orders, please call us at 800-345-4447. Thank you!
by Sandi Schwartz
Publication Date: March 22, 2022
Raise calmer, happier, healthier children with these fun, hands-on nature activities for parents and kids to enjoy together.
Are your kids stressed? Are they feeling a bit down? Do your children—and you—need a break from screens? Nature can help. What we all suspected intuitively for generations, science has now confirmed: spending time connecting to nature is a safe, effective tool to help improve our health and happiness.
In Finding Ecohappiness, author Sandi Schwartz guides families in building regular habits of experiencing nature to reduce stress and boost mood. She explores key positive psychology tools from a nature-loving perspective. You will learn some simple, practical tips for incorporating these tools—awe and gratitude, mindfulness, creative arts, outdoor play and adventure, volunteering, food, and animals—into your daily routine to help your children thrive and live a happy, balanced life.
Finding Ecohappiness will introduce you to all kinds of engaging nature activities you can do with your kids, from hiking and bike rides to visiting nature centers and science museums to volunteering outdoors to embarking on ecotourism adventures. In addition, you will discover unique nature relaxation activities like cow cuddling, animal yoga, forest bathing, float therapy, and earthing. Nature isn't just for kids, either—doing these activities with your children will tremendously improve your own well-being, too.
A must-read for all families, Finding Ecohappiness will help protect children from feeling stressed and overwhelmed; manage children's issues with stress, anxiety, and mood; and improve family togetherness.
$18.95 US • Trade Paperback • 6″ x 9″ • 306 pages
ISBN 978-0-941936-50-7
Item currently available for pre-order. Will ship upon publication.

Updating…