« Return to Previous Page
A Wounded Police Officer's Struggle with the Burden All Cops Share
by Brandon S. Hultink
Publication Date: April 7, 2020
A former police officer tells his personal story of the long climb from depression to faith in the intense new personal memoir The Backpack.
An amazing journey from despair to hope, The Backpack tells the truth about the burdens of stress and trauma on police officers and presents an inspirational story of how one cop overcame physical and emotional wounds suffered in the line of duty.
"I can still remember the taste of metal in my mouth from the barrel of the gun . . ." After the shoot-out that put him in a wheelchair, police officer Brandon S. Hultink was ready to put an end to it all.
In his frank and compelling memoir The Backpack, Hultink tells how he came to the worst moment of his life, and how faith in God and the humility to accept help brought him out of depression, addiction and the wheelchair and back into successful life.
But Hultink's story isn't his alone — it is also the story of the thousands of police officers who struggle with depression and post-traumatic stress. Cops don't do touchy-feely stuff; they stuff every trauma into a metaphorical "backpack" until the burden overwhelms them. Hultink writes unflinchingly of the mental health crisis affecting police officers and offers proposals for improving mental health services for police.
An intensely personal story of anguish and survival, The Backpack offers hope to everyone — police and civilian alike — who struggle with depression and pain.
About the Author: A graduate of Western Michigan University and the Thomas M. Cooley Law School, Brandon S. Hultink served for fifteen years as an officer with the Battle Creek, Michigan, Police Department and for ten years as an assistant prosecutor with the Calhoun Country Prosecutor's Office. Hultink currently works as a parole agent for the Michigan Department of Corrections. He lives in Battle Creek with his wife and three sons. The Backpack is his first book.
$16.95 US • Trade Paperback • 6″ x 9″ • 140 pages
ISBN 978-1-61035-351-9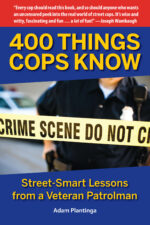 Street-Smart Lessons from a Veteran Patrolman
By Adam Plantinga
400 Things Cops Know shows police work on the inside, from the viewpoint of the regular cop on the beat —  a profession that can range from rewarding to bizarre to terrifying, all within the course of a single eight-hour  shift. Written by veteran police sergeant Adam Plantinga, 400 Things Cops Know brings the reader into life the  way cops experience it — a life of danger, frustration, occasional triumph and plenty of grindingly hard routine  work.
In a laconic, no-nonsense, dryly humorous style, Plantinga tells what he's learned from 13 years as a patrolman,  from the everyday to the exotic — how to know at a glance when a suspect is carrying a weapon or is going to  attack, how to kick a door down, how to drive in a car chase without recklessly endangering the public, why you  should always carry cigarettes, even if you don't smoke (offering a smoke is the best way to lure a suicide to  safety) and what to do if you find a severed limb (don't put it on ice — you need to keep it dry).
400 Things Cops Know deglamorizes police work, showing the physical, psychological and emotional toll of  the job. Plantinga shows what cops experience of death, the legal system, violence, prostitution, drug use, the  social causes and consequences of crime, alcoholism and more.
Sometimes heartbreaking and often hilarious, 400 Things Cops Know is an eye-opening revelation of what life  on the beat is really all about.

Updating…