« Return to Previous Page
Please note: We accept PayPal only on the website. For credit card orders, please call us at 800-345-4447. Thank you!
by David Eugene Perry
Publication Date: September 15, 2020
Intrigue, terrorism, history, art, and the secrets of the Church collide in a relentless page-turning thriller.
An American couple in Italy investigate the suicide of a cleric in the picturesque Italian city of Orvieto — and find themselves plunged into a conspiracy that may destroy the Catholic Church. In the stunning thriller Upon This Rock, San Francisco business executive Lee Maury and his husband Adriano come to Orvieto to soak in the city's beauty and rich history, but Lee becomes fascinated with a local tragedy, the suicide one year earlier of Deacon Andrea, a much-loved candidate for the priesthood.
Growing obsessed with learning the truth behind Andrea's death, Lee finds that everyone in Orvieto has some connection with Andrea: the handsome former Swiss Guard and bisexual prostitute Grigori; the kindly elderly priest Don Bello; the gossipy American expat blogger Lady Peg; the secretive young German doctor Luka; the irascible nonagenarian baker La Dona Volsini and her USA-loving grandson Marco; African immigrant street musician Dawud and his sister Maryam, who is en route to Italy with black market smugglers; the exiled Episcopal priest Rev. Vicki; Orvieto's new bishop, Arnaud, a sexually conflicted member of Opus Dei; the powerful head of the Vatican press office Cardinal Maltoni; and the secretive political fixer Magda Carter. Woven throughout is a 500-year-old backstory — the plight of Medici Pope Clement VII who sought refuge in Orvieto following the Sack of Rome, whose time in Orvieto is somehow linked to the mysteries of the present.
As Lee and Adriano struggle to make sense of the relationships tying all these people to Andrea's suicide, they stumble upon a conspiracy of terrorism, human trafficking, and a plot to destroy one of the Church's most sacred shrines. Before they know it, Lee and Adriano's dream vacation becomes a race to save innocent lives — and not get killed in the process.
A Dan Brown–esque tale of intrigue, history, art, the secrets of the Church, and the conspiracies of the powerful, Upon This Rock is a relentless page turner that will keep readers on edge from its original premise to its startling denouement, set in the stunning background of one of Europe's most captivating cities.
About the Author: David Eugene Perry is the founder and CEO of the public relations firm David Perry & Associates, Inc. Perry is also the host/producer for the weekly LGBT TV show 10 Percent and a journalist who has contributed to several national publications. Perry and his husband make their home in San Francisco and Palm Springs.
$18.95 US • Trade Paperback • 6″ x 9″ • 402 pages
ISBN 978-0-941936-06-4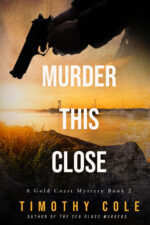 Please note: We accept PayPal only on the website. For credit card orders, please call us at 800-345-4447. Thank you!
by Timothy Cole
Publication Date: June 7, 2022
In the wealthy Gold Coast enclave of Westport, a feud between mystery writers turns deadly—and retired spy Dasha Petrov must find the real killer to clear her name.
Once one of the most lethal secret agents in the world, Dasha Petrov has hunted Nazis, Communists, and one common murderer (in The Sea Glass Murders, the first Dasha Petrov thriller). But now it's 1991, two years after that unpleasantness, and Dasha is living a sedate life appropriate to an elderly widow in wealthy Westport, Connecticut, spoiling her grandchildren and innocently flirting with two of her neighbors, the rival mystery novelists Barnaby Jayne and Michael Aubrey.
The two writers, both wildly successful and many times married, cordially despise each other. Dasha thinks they're just two silly men with big egos, but the writers' feud boils over into a bizarre series of attacks that starts with a blowgun dart and escalates to booby traps and car bombs. And when Jayne and Aubrey both turn up dead, the evidence points to one suspect—Dasha herself.
Now Dasha has to once again call upon her cunning mind and capacity for extreme violence, honed by her younger years as a Nazi-killing partisan and a top-rank CIA agent. Teaming up with her old allies, Westport police chief Tony DeFranco and local TV reporter Tracy Taggart, Dasha sets out to clear her name, find the real killer, and figure out why she was targeted—while dodging jealous wives, a sleazy tabloid reporter, child spies, and a fearsome Mafia hit man, leading to a tense and dramatic confrontation.
Fast-paced and filled with intriguing characterization, Murder This Close is a stunning murder mystery with a twisty cerebral plot and plenty of hard-hitting action.
$16.95 US • Trade Paperback • 5.25″ x 8″ • 246 pages
ISBN 978-1-610353-85-4
Item currently available for pre-order. Will ship upon publication.

Updating…