« Return to Previous Page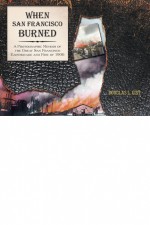 A Photographic Memoir of the Great San Francisco Earthquake and Fire of 1906
by Douglas L. Gist
Early one spring morning, disaster struck San Francisco, and a young man grabbed his camera and started documenting the destruction and death surrounding him. Fearlessly going to the center of the devastation, the man captured scenes of fires, collapsing buildings, and people fleeing for their lives—scenes that no one else had a chance to record. His photographs were preserved in a family photo album, unseen by the public for over a hundred years.
When San Francisco Burned presents for the first time the photographs that young man, L ouis P. Selby, took of the Great San Francisco Earthquake and Fire of 1906. These amazingly detailed and dramatic photographs show the earthquake and its aftermath from a street-level perspective, giving readers an unprecedented look at what it was really like to be in San Francisco during those terrible days.
Selby's photographs document the immediate damage of the earthquake; horrific action shots of fire consuming San Francisco; the heroic efforts of police, soldiers, and ordinary citizens to maintain order and protect the people; the somber ruins of San Francisco after the blaze; the misery and pluck of the refugee camps; and the city's earliest days of rebirth and rebuilding.
These unique, never-before-published photographs show the horrors of the earthquake and fire—and the stubborn resistance of the people of San Francisco—like you've never seen them before.
An invaluable addition to the historical record, When San Francisco Burned is a must-have book for anyone who loves San Francisco and its history.
$21.95 ($23.95 Canada)
Trade Paperback • 11″ x 8½" • 140 pages
ISBN 978-1-61035-245-1
California History / Historical Photography
BISAC HIS036140 / PHO023100
140 Rare Historic Photographs

Updating…