« Return to Previous Page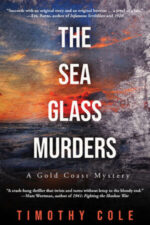 Please note: We accept PayPal only on the website. For credit card orders, please call us at 800-345-4447. Thank you!
by Timothy Cole
Publication Date: October 6, 2020
A headless corpse tossed in a dumpster unites a small-town cop and a formidable retired lady spy to track a killer in a wealthy New England neighborhood.
Westport, Connecticut, 1989. A decapitated body burned to a crisp might be found in any dumpster in any city in America, but not in the aristocratic Gold Coast community of Westport. Local cop Tony DeFranco dutifully collects evidence, knowing that the State Police will take over the case. But when the state investigator tries to cover up the murder, DeFranco starts a rogue investigation.
Not knowing if any of his police colleagues can be trusted, DeFranco forms an alliance with two unlikely colleagues — local TV reporter Tracy Taggart and retired CIA case officer Dasha Petrov, whose elderly, ladylike appearance masks a lifetime's experience with violence and deception.
Petrov, who had long reconciled herself to a quiet and dwindling retirement taking care of her ailing sister, responds to DeFranco's request for help with an eagerness that surprises herself. Born in czarist Russia, Petrov spent her childhood fleeing Bolsheviks and her youth fighting Nazis. An officer of the wartime OSS and then the CIA, Petrov brings a strategic mind, an insight into the evil of the human heart, and a shocking level of comfort with violence to the investigation, and Petrov finds herself thrilled to be back in action.
While the trio of investigators track the identity and tragic life of the murder victim, the unknown killer strikes again. And as DeFranco and Taggart develop feelings for one another, it becomes clear that both have become the killer's next targets. The body count mounts, and DeFranco must rely on Petrov's insights and skills, acquired over decades of global troubleshooting, to stop a killer operating at the pinnacle of American power. A glimpse at the sordid underside of position and wealth, with a breakout star character in Dasha Petrov, the elderly lady with a glamorous past and a will of steel, The Sea Glass Murders is an action mystery with an immersive, fast-paced plot and unforgettable characters.
$16.95 US • Trade Paperback • 6″ x 9″ • 326 pages
ISBN 978-0-941936-03-3

Updating…