« Return to Previous Page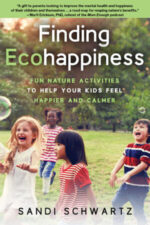 Please note: We accept PayPal only on the website. For credit card orders, please call us at 800-345-4447. Thank you!
by Sandi Schwartz
Gold Winner, Nonfiction Authors Association Book Awards
Publication Date: May 3, 2022
Raise calmer, happier, healthier children with these fun, hands-on nature activities for parents and kids to enjoy together.
Are your kids stressed? Are they feeling a bit down? Do your children—and you—need a break from screens? Nature can help. What we all suspected intuitively for generations, science has now confirmed: spending time connecting to nature is a safe, effective tool to help improve our health and happiness.
In Finding Ecohappiness, author Sandi Schwartz guides families in building regular habits of experiencing nature to reduce stress and boost mood. She explores key positive psychology tools from a nature-loving perspective. You will learn some simple, practical tips for incorporating these tools—awe and gratitude, mindfulness, creative arts, outdoor play and adventure, volunteering, food, and animals—into your daily routine to help your children thrive and live a happy, balanced life.
Finding Ecohappiness will introduce you to all kinds of engaging nature activities you can do with your kids, from hiking and bike rides to visiting nature centers and science museums to volunteering outdoors to embarking on ecotourism adventures. In addition, you will discover unique nature relaxation activities like cow cuddling, animal yoga, forest bathing, float therapy, and earthing. Nature isn't just for kids, either—doing these activities with your children will tremendously improve your own well-being, too.
A must-read for all families, Finding Ecohappiness will help protect children from feeling stressed and overwhelmed; manage children's issues with stress, anxiety, and mood; and improve family togetherness.
$19.95 US • Trade Paperback • 6″ x 9″ • 292 pages
ISBN 978-0-941936-50-7

Updating…