« Return to Previous Page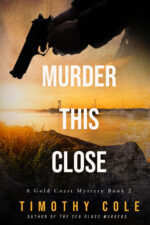 Please note: We accept PayPal only on the website. For credit card orders, please call us at 800-345-4447. Thank you!
by Timothy Cole
Publication Date: June 7, 2022
In the wealthy Gold Coast enclave of Westport, a feud between mystery writers turns deadly—and retired spy Dasha Petrov must find the real killer to clear her name.
Once one of the most lethal secret agents in the world, Dasha Petrov has hunted Nazis, Communists, and one common murderer (in The Sea Glass Murders, the first Dasha Petrov thriller). But now it's 1991, two years after that unpleasantness, and Dasha is living a sedate life appropriate to an elderly widow in wealthy Westport, Connecticut, spoiling her grandchildren and innocently flirting with two of her neighbors, the rival mystery novelists Barnaby Jayne and Michael Aubrey.
The two writers, both wildly successful and many times married, cordially despise each other. Dasha thinks they're just two silly men with big egos, but the writers' feud boils over into a bizarre series of attacks that starts with a blowgun dart and escalates to booby traps and car bombs. And when Jayne and Aubrey both turn up dead, the evidence points to one suspect—Dasha herself.
Now Dasha has to once again call upon her cunning mind and capacity for extreme violence, honed by her younger years as a Nazi-killing partisan and a top-rank CIA agent. Teaming up with her old allies, Westport police chief Tony DeFranco and local TV reporter Tracy Taggart, Dasha sets out to clear her name, find the real killer, and figure out why she was targeted—while dodging jealous wives, a sleazy tabloid reporter, child spies, and a fearsome Mafia hit man, leading to a tense and dramatic confrontation.
Fast-paced and filled with intriguing characterization, Murder This Close is a stunning murder mystery with a twisty cerebral plot and plenty of hard-hitting action.
$16.95 US • Trade Paperback • 5.25″ x 8″ • 246 pages
ISBN 978-1-610353-85-4
Item currently available for pre-order. Will ship upon publication.

Updating…