« Return to Previous Page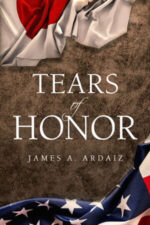 Please note: We accept PayPal only on the website. For credit card orders, please call us at 800-345-4447. Thank you!
by James A. Ardaiz
Publication Date: February 16, 2021
Listen to James A. Ardaiz interview on Tears of Honor on Paul Loeffler's Hometown Heroes radio
A sweeping novel of history, war, and courage in the face of injustice, Tears of Honor tells the story of the heroic Japanese American soldiers who fought against Nazi tyranny in Europe, while their families were imprisoned in America.
Sammy and Freddy are two all-American boys in the summer of 1941, dreaming of becoming professional baseball players and maybe asking a girl to the senior prom. But when war comes, Sammy Miyaki, Freddy Shiraga, and their families are seen as enemy aliens, not Americans. Taken from their homes in rural central California and placed in internment camps, the boys decide that the only way to prove their loyalty to America is to join the Army.
Assigned to an all Japanese American combat unit fighting against the Germans, Sammy and Freddy are placed under the command of the combat-hardened Lieutenant Young Oak Kim (a real-life person and one of the most highly decorated American soldiers in history), who leads them through some of the fiercest fighting of the war. Sammy, Freddy and their comrades confront the prejudice of white soldiers and the horrors of combat, as they come to realize they are fighting not just for the United States, but for the honor of all Japanese Americans.
$19.95 US • Trade Paperback • 6″ x 9″ • 560 pages
ISBN 978-1-61035-900-9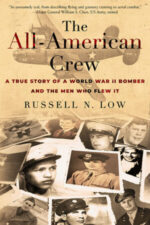 Please note: We accept PayPal only on the website. For credit card orders, please call us at 800-345-4447. Thank you!
by Russell N. Low
Publication Date: April 12, 2022. Click here to preview the book.
An inspiring true story of teamwork, camaraderie, and Americans at war
On January 23, 1943, a B-24 Liberator bomber and its crew of ten men disappeared without a trace in New Guinea. Their families never knew what happened to them. Now, 80 years later, their long-forgotten letters and dusty photographs finally tell their story in The All-American Crew.
Stanley Low did not want to be a hero and would not have welcomed the description. A Chinese American kid from Salem, Oregon, who wasn't yet old enough to vote or drink beer, Stan joined the army because there was a war on and it was his duty. As Stan trains to become a bomber nose gunner and heads into combat, he experiences loneliness, racism, his first beer, his first romance and the horrors of war.
Stan also forms a tight bond with his crewmates, who come from every American ethnicity and walk of life, including Irish American pilot Scott Regan and Jewish American bombardier Jerome Lesser. The ten men of Stan's bomber crew—rich and poor, from old American families and recent immigrants—form an all-American crew whose dedication to the country and their team elevates them above their individual differences.
As the war heats up, Stan, his crewmates, and many other hastily trained bomber crews fly off dirt runways in the South Pacific tropics, thousands of miles from the nearest allied base, fighting the relentless forces of the Japanese Empire. The loss of life mounts at an alarming rate as many crews fail to return from missions. Those who survive quickly learn to fight. Now battle-hardened veterans, Stan and his crew fly toward their final rendezvous with destiny, willing to sacrifice everything for their country and each other.
Celebrating American diversity and ideals of honor, bravery, and freedom, The All-American Crew is a magnificent true story of men at war.
$18.95 US • Trade Paperback • 6″ x 9″ • 388 pages
ISBN 978-0-941936-13-2

Updating…