« Return to Previous Page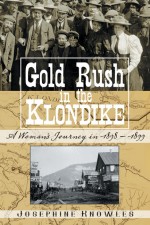 A Woman's Journey in 1898–1899
by Josephine Knowles
When Josephine Knowles left for the Klondike gold fields with her husband in 1898, she didn't know she would be facing a constant battle with cold, disease, malnutrition and the ever-present possibility of death.
Gold Rush in the Klondike is Knowles's true story of her year in the Yukon territory, a revealing, never-before-published personal memoir of day-to-day life at the height of the Klondike Gold Rush. Written in a clear, forthright, nineteenth-century style, Gold Rush in the Klondike presents terrifying struggles against a hostile environment, picturesque descriptions of an untouched Arctic wilderness and Knowles's keen observations of men and women on the frontier.
A Victorian gentlewoman of refinement, Knowles found herself among swearing, whoring, sometimes violent miners, whom she won over with her grit and compassion. Deciding to never moralize or condemn, Knowles writes frankly of the intense hardships that drove miners into lives of drink and dissipation and the frontier women who were forced to make stark choices between prostitution and starvation.
Knowles's adventures include encounters with author Jack London (Knowles firmly disapproved of London's cruel mistreatment of his sled dogs), nursing miners during a typhoid outbreak until she fell ill herself, witnessing savage fights among the miners, dangerous travel through the mountain passes and river rapids of the Yukon, and a daring surreptitious visit to a gambling saloon. Amid all hardships, Knowles formed warm relationships with the mining community, for, as she put it, "All the diseases and other troubles had knitted us into one large family."
Illustrated with period photographs, Gold Rush in the Klondike is an invaluable historical document of a lost time and place and an admirable portrait of one woman's determination in the face of danger.
Audience: History readers, women's history readers and nineteenth-century history readers.
About the Author: Josephine Knowles was born in Illinois in 1864. She lived in Nebraska and California before her extraordinary year in the Klondike in 1898–1899. She returned to San Francisco in the spring of 1899 and spent the rest of her life there. Knowles died in Berkeley, California, in 1936, at the age of 71.
$22.95 ($28.95 Canada) • Hardback • 6″ x 9″ • 172 pages
ISBN 978-1-61035-270-3
The History of El Camino Real
by Stephen H. Provost
Publication Date: May 19, 2020
A fun-filled look at the history and attractions of California's legendary Highway 101.
Now the road has the utilitarian designation of U.S. Route 101, but originally it had a name of romance and mystery—El Camino Real, or the King's Highway, built on the trail pioneered by the Spanish friars and marked by mission bells on the roadside. Illustrated throughout with historic photographs, Highway 101: The History of El Camino Real tells the picturesque story of this great highway and the restaurants, motels, gas stations, and roadside attractions that made it memorable to generations of travelers.
From Disneyland to the historic Madonna Inn to the Avenue of the Giants, Highway 101 catalogs the great landmarks along the road, plus the fascinating personalities, from Dorothea Lange to Jelly Roll Morton to Cecil B. DeMille, whose lives intersected with the history of the route.
A colorful history of Americana, commerce, travel, and fun, Highway 101 captures the magic of the open road.
About the Author: Stephen H. Provost is an author and journalist who has worked as an editor, columnist, and reporter at newspapers throughout California. His previous books include Highway 99: The History of California's Main Street; Fresno Growing Up: A City Comes of Age 1945-1985; and the fantasy novels Memortality and Paralucidity.
$20.95 US • Trade Paperback • 8½" x 10″ • 270 pages
ISBN 978-1-61035-352-6
Please note: We accept PayPal only on the website. For credit card orders, please call us at 800-345-4447. Thank you!
by Stephen H. Provost
Publication Date: January 11, 2022 (now available!)
A fun, nostalgic look at the great stores of yesteryear

The wealthy and leisured lady of the 1920s shopped in a palatial downtown department store with a restaurant, beauty parlor, movie theater, and live orchestra—the harried suburban mom of today rushes her purchases through the self-checkout at the big box store. The Great American Shopping Experience explains how this transformation happened in a fascinating and entertaining history of the growth and decline of America's massive retail empires.
From the humble 19th century dry goods store to the majestic department stores of the early 20th century to the shopping malls and outlet stores of today, The Great American Shopping Experience tells the romantic story of Americans' relentless pursuit of the better bargain, surveying the changing fashions, social ideals, and marketing innovations that created shopping as we know it.
The Great American Shopping Experience also takes a nostalgic look back at the stores we loved, from the small regional stores that were gobbled up to the big chains that still survive today. If you've ever wondered what happened to your favorite store, The Great American Shopping Experience has the answers.
A popular history that is both fun and compelling, The Great American Shopping Experience tells an epic story of capitalism's powers of creative destruction, the repeated transformation of American society, fortunes made and unmade—and the great times and amazing deals we had along the way.
$24.95 US • Trade Paperback • 8.5″ x 10″ • 216 pages • 128 Historic black and white photos • Bibliography • Index
ISBN 978-1-61035-991-7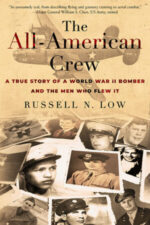 Please note: We accept PayPal only on the website. For credit card orders, please call us at 800-345-4447. Thank you!
by Russell N. Low
Publication Date: April 12, 2022. Click here to preview the book.
An inspiring true story of teamwork, camaraderie, and Americans at war
On January 23, 1943, a B-24 Liberator bomber and its crew of ten men disappeared without a trace in New Guinea. Their families never knew what happened to them. Now, 80 years later, their long-forgotten letters and dusty photographs finally tell their story in The All-American Crew.
Stanley Low did not want to be a hero and would not have welcomed the description. A Chinese American kid from Salem, Oregon, who wasn't yet old enough to vote or drink beer, Stan joined the army because there was a war on and it was his duty. As Stan trains to become a bomber nose gunner and heads into combat, he experiences loneliness, racism, his first beer, his first romance and the horrors of war.
Stan also forms a tight bond with his crewmates, who come from every American ethnicity and walk of life, including Irish American pilot Scott Regan and Jewish American bombardier Jerome Lesser. The ten men of Stan's bomber crew—rich and poor, from old American families and recent immigrants—form an all-American crew whose dedication to the country and their team elevates them above their individual differences.
As the war heats up, Stan, his crewmates, and many other hastily trained bomber crews fly off dirt runways in the South Pacific tropics, thousands of miles from the nearest allied base, fighting the relentless forces of the Japanese Empire. The loss of life mounts at an alarming rate as many crews fail to return from missions. Those who survive quickly learn to fight. Now battle-hardened veterans, Stan and his crew fly toward their final rendezvous with destiny, willing to sacrifice everything for their country and each other.
Celebrating American diversity and ideals of honor, bravery, and freedom, The All-American Crew is a magnificent true story of men at war.
$18.95 US • Trade Paperback • 6″ x 9″ • 388 pages
ISBN 978-0-941936-13-2

Updating…