« Return to Previous Page
How to Use College to the Fullest to Discover Your Strengths and Find a Job You Love Before You Graduate
by Kat Clowes, M.B.A.
College today is not preparing students for the modern job market—at a time when young people can expect to change careers five times or more, students are graduating with insufficient and obsolete job skills. The old rules for succeeding in college just don't work anymore.
Put College to Work is a new kind of college guide, written by a Millennial for Millennials and designed for today's world of uncertain employment, rapid career changes, and high student loan debt. The author knows first-hand what works and what doesn't in today's economy, both from her own experience as a student and her career as a college planning consultant. At a time when traditional college planning is failing to prepare students for working world, Put College to Work is a supremely practical guide to start building your career plan, your business contacts, and your job prospects.
Put College to Work shows how to identify your strengths, find the right career field and major to pursue, leverage your skills, and create your own opportunities. You'll learn how to network to employers through your university's career center, alumni association, and major donors, plus the industry and research connections of your professors.
Put College to Work presents a step-by-step plan to use the resources available to you in college (the resources you're already paying for!) to enhance your education with practical experience, make connections with employers, market yourself as a dynamic and creative employee—and land a job before you graduate.
Put College to Work is the new rule book to how college really works today that will empower you to take action now to build your education, your career plan, your business contacts, and your job prospects.
About the Author: Kat Clowes figured out college the hard way. Having been a college student without a clue, Clowes spent ten years after graduation learning how she could have used her college resources to launch her career. After earning an M.B.A. and building a successful executive career, Clowes is now an independent educational consultant helping students use their time in college to gain meaningful employment after graduation.
$18.95 ($19.95 Canada) • Trade Paperback • 6″ x 9″ • 280 pages
ISBN 978-1-61035-253-6
BUSINESS & ECONOMICS / Careers •
BISAC BUS012000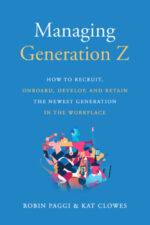 Please note: We accept PayPal only on the website. For credit card orders, please call us at 800-345-4447. Thank you!
by Robin Paggi and Kat Clowes
Publication Date: April 6, 2021
Expert advice on attracting, training, managing, retaining, and succeeding with America's newest generation of hard-working, tech-savvy employees.
A new generation is entering the American workforce—Gen Z, the age cohort born after 1996. Having grown up with smartphones, social media, emoji-speak, helicopter parenting, and no expectation of privacy, Gen Z has a unique culture and working style that can be baffling to their Millennial, Gen X, and Baby Boomer managers.
In Managing Generation Z, Robin Paggi, a veteran HR manager, and Kat Clowes, an educational consultant who has worked with hundreds of Gen Z'ers, join forces to give employers and managers a practical, easy-to-understand guide to the new generation defining the future of work. Based on Clowes's in-depth knowledge of Gen Z habits and Paggi's real-world experience of how generational miscommunications can cause expensive personnel problems, Managing Generation Z gives managers at all levels a plan for getting quality work from Gen Z employees while avoiding cultural clashes at the office.
Gen Z is highly educated, extraordinarily tech-savvy, eager to meet expectations, and loyal to employers, but many Gen Z workers have never been trained in the basics of professionalism, workplace communication, and the unwritten social rules older generations instinctively expect. Managing Generation  Z teaches managers how to bridge the communication styles between Gen Z and older colleagues, how to train Gen Z staff to make work objectives clear, and how to evaluate and correct Gen Z employees so they will listen, accept, learn, and improve.
Like having an expert HR manager at your fingertips, Managing Generation Z is essential reading for both front-line supervisors and C-level executives who want to get the most from the newest generation in the workforce.
$18.95 US • Trade Paperback • 6″ x 9″ • 275 pages
ISBN 978-1-61035-400-4

Updating…