"The most complete writing book I have ever read": What reviewers are saying about "Editor-Proof Your Writing"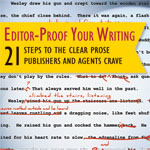 Our newest book for writers, "Editor-Proof Your Writing," by veteran novelist and editor Don McNair, has been winning a lot of praise for its straightforward, step-by-step guidance to self-editing. Here's what reviewers are saying:
"This is the most complete writing book I have ever read … a clear, readable book on how to avoid foggy writing. McNair takes his reader from the first sentence of his or her work in progress to submitting the polished work to a publisher or an agent."
—Warren Bull, Writers Who Kill
"Don McNair has achieved something I would have thought was truly impossible; he wrote a book about editing that I actually had fun reading. It will also help make your writing, cleaner punchier and easier to read which can only mean good things for your chances of getting published. Highly recommended."
—Andrew Jack, Andrew Jack Writing
"I have a shelf full of writing manuals, but most have not been used since the initial read-through. There are a few, however, that are invaluable to me as a writer, and I count Editor-Proof Your Writing by Don McNair among those useful resources. McNair's straightforward approach to editing will help all writers, regardless of experience or genre."
—Jason T. Carter, The Writer's Journey
"'Editor-Proof Your Writing' tells authors everything that I, as an editor, would like them to know. Don McNair gives real-world advice and takes book readers step-by-step to creating a manuscript that shines. McNair's voice and style of writing is easy to read and actually entertaining. This is not a dry how-to book. Frankly, I think this is a must-read for authors, self-published or otherwise. Run out and get yourself a copy."
—Cassiel Knight, See Jane Publish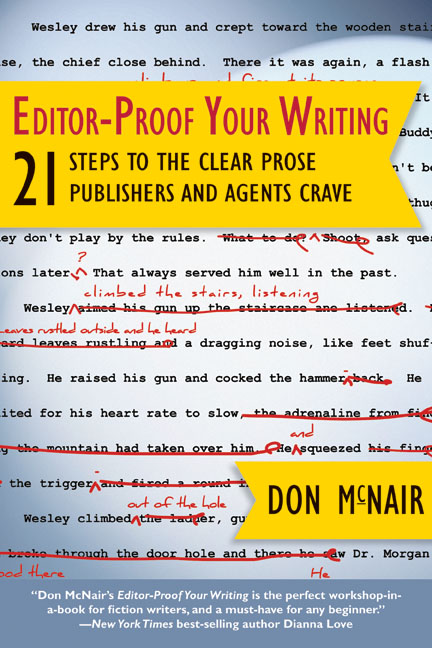 See for yourself what the reviewers are talking about — order "Editor-Proof Your Writing" from Quill Driver Books.