Fighting fake reviews: Daniel Lemin, author of upcoming "ManipuRATED," on how business owners can protect themselves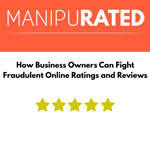 Fake online reviews are more common than most people realize, says Daniel Lemin, online reputation strategist and author of the upcoming book "ManipuRATED: How Business Owners Can Fight Fraudulent Online Ratings and Reviews," which will be released Dec. 1.
"Fake reviews are far more common than most people might think. Yelp itself discloses that about 25 percent of the reviews it receives are fake and never published," Lemin said in an interview this week with USA Today.
As Lemin points out in "ManipuRATED," everything that makes online ratings and review sites great — giving customers direct, anonymous, uncensored access to comment on businesses — also makes online reviews a tempting target for fraud, trolls, revenge reviewers. The potential for fraud ruins the value of online reviews for consumers, and threatens business owners with the destruction of their hard-earned commercial reputations.
Lemin's new book alerts business owners to the dangers of online reviews and offers a solution — a step-by-step playbook to defend, control, and enhance your business's profile online.
"ManipuRATED" teaches business owners how to track what people are saying about their businesses online; how to make every review, good or bad, a marketing asset; how to respond to reviews — and when not to; how to recruit your best customers to write fresh reviews; how to publicize good reviews; and more.
Both a warning and a call to action, "ManipuRATED" is a must-read for all small business owners who depend on online reviews.
"ManipuRATED" is available now for preorder and will be released Dec. 1.