The book that makes college worth the money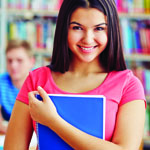 Right now a new batch of freshmen are entering college, and every one of them is engaged in a high-stakes gamble — these days college can establish you in a good career or saddle you with a lifetime of student debt and uncertain job prospects.
Our newest book is designed to even the odds in students' favor: "Put College to Work: How to Use College to the Fullest to Discover Your Strengths and Find a Job You Love Before You Graduate" by professional college and career planner Kat Clowes.
"Put College to Work" is a new kind of college guide, written by a Millennial for Millennials and designed for today's world of uncertain employment, rapid career changes and high student loan debt. Author Kat Clowes knows first-hand what works and what doesn't in today's economy, both from her own experience as a typical "college student without a clue" and her career as a college planning consultant.
"Put College to Work" gives students a step-by-step plan to find their career focus early and take steps now to build their career goals while still in college. Clowes guides students on how to make the best use of college career centers, alumni associations, internships, college research connections, and more. Most important, "Put College to Work" models for students how they can advocate for themselves and take charge of their educations and their careers.
At a time when traditional college planning is failing to prepare students for the working world, "Put College to Work" is a supremely practical guide to taking action now to build one's education, career plan, business contacts and job prospects.
Pick up PUT COLLEGE TO WORK today!