How a Mob-connected bookie saved a priceless historical archive — and inspired our new book, "Folsom's 93"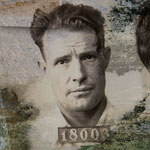 Our latest history title, "Folsom's 93," exists because of a guy named Tom, who was a bookie and professional gambler in the 1940s. Tom hung out with mobsters like Bugsy Siegel and Anthony Corsaro, but his own business was strictly legit.
Sometime in the 1940s, Tom went to California's Folsom State Prison to collect some money he was owed by an inmate. Tom didn't get the money; instead, he got a collection of prison records, including the mugshots of all 93 men who had been hanged at Folsom from 1895 to 1937, when executions were transferred to the gas chamber at San Quentin. Tom didn't know what to do with this stuff, so he stuck it in a closet.
Seventy years later, the records Tom saved came into the hands of his great-great-niece, author April Moore, and she used them as the basis for her new book, "Folsom's 93: The Lives and Crimes of Folsom Prison's Executed Men."
Uncovering fascinating stories that had lain hidden in Tom's closet for 70 years, "Folsom's 93" tells the full history of Folsom's executed men — their origins, their crimes, the investigations that brought them to justice (or injustice, in the case of the wrongfully charged) their trials, and their deaths at the gallows. Illustrated with each prisoner's official prison photograph, "Folsom's 93" is a gritty and haunting look back at early 20th century crime and punishment.
Here are some of the bizarre characters you'll meet in "Folsom's 93":
Jacob Oppenheimer, called the "Human Tiger," spent eighteen years in solitary confinement. Feared by guards and fellow inmates, Oppenheimer was notorious for his murderous  attacks with improvised weapons.
Alex A. Kels, called "the man who died twice," was the center of one of the strangest murder/fraud cases in California history. Kels was originally thought to be the murder victim when a charred body was found in his burnt-out car. But then the sinister truth came out — Kels had murdered a vagrant to fake his own death.
Alfred Bollinger was arrested and executed for the murder of itinerant laborer Alex Summers. But newspaper reports found far more interest in Alfred's wife, Mrs. Eva Bollinger, who had been married four times, and all four of her husbands had been convicted murderers. Eva attributed her poor luck with men to a Gypsy curse.
Plus 90 other stories of men who were vicious, insane, pressed beyond their endurance, unlucky or sometimes simply innocent.
Order "Folsom's 93" today from Quill Driver Books — and thank Tom when you do.