"Becoming Dr. Ruth" onstage in Hartford, CT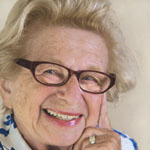 Usually, they wait till you're dead before they write plays about you. But the very-much-continuing life of Dr. Ruth Westheimer, sex therapist, all-around cultural icon and Quill Driver Books author ("Dr. Ruth's Guide to Sex After 50" and "Dr. Ruth's Guide for the Alzheimer's Caregiver") is the subject of the new play "Becoming Dr. Ruth," running through July 24 at Theaterworks in Hartford, Connecticut.
Written by noted American playwright Mark St. Germain ("Freud's Last Session," "Camping with Henry and Tom") and starring Debra Jo Rupp ("That '70s Show"), this one-woman show explores Ruth's incredible early life, which led her from an Swiss orphanage during World War II to a stint as an Israeli sniper ("I can put five bullets in a red circle and throw hand grenades," she boasted in an interview with the Hartford Courant to speaking frankly about sex on the radio.
Ruth's life story is a triumph over the worst of circumstances, but the emotional heart of the show, says the Courant , is Ruth's "ability to change and determination to find a sense of place and family."
Ruth just celebrated her 85th birthday and she's still going strong, so there's plenty of material for another play about her life. In the meantime, if you're in Hartford, see "Becoming Dr. Ruth."