New in Business: "From Farms To Incubators" Profiles Nearly 30 Women Innovators Who Are Revolutionizing How Our Food Is Grown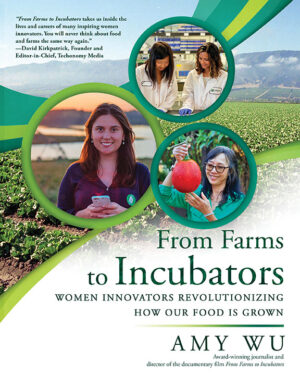 by Tom Leyde
The feminine touch is changing the landscape of agriculture worldwide. Women in agtech are helping farmers meet enormous challenges head-on. From water and labor shortages to climate change, barriers to growing food more efficiently and abundantly have never been greater. It is estimated that farmers will need to feed 10 billion people by 2050. So agtech needs all the support it can get. Women, including many women of color, are stepping up to meet that need, with grit, determination, intelligence, and innovation.
Their stories are recorded in From Farms to Incubators: Women Innovators Revolutionizing How our Food is Grown a collection of nearly 30 profiles of women innovators and leaders in the growing sector of agtech. From Farms to Incubators is a collection of visual and written portraits by award-winning journalist Amy Wu. The book presents inspiring case studies of how women entrepreneurs from diverse cultural and ethnic backgrounds are leading the agtech revolution.
Wu found that agriculture and agtech, had been dominated by men. But something was changing. Women were making major inroads in the field, and this was not being widely reported. She wrote a story profiling a woman who founded an agtech company, while working as a reporter at The Salinas Californian newspaper in Salinas, Calif., then another and another. Her stories eventually became a series printed in newspapers throughout the U.S. The project evolved into an award-winning documentary and a virtual reality traveling exhibition, starting at the National Steinbeck Center in Salinas in the fall of 2020.
Now From Farms to Incubators as a new book now available from Quill Driver Books. Illustrated with over 300 full-color photos, From Farms to Incubators features Wu's profiles of women leading the way in agtech.
"The book strives to document a time in history that captures an intersection when agriculture and technology and the workforce behind it began a shift that will be of value years, decades, and generations from now," Wu writes in the book. The women behind that shift are visionaries who are changing the world for the better one innovation at a time. Not all of them started in agriculture or agtech. But they found their way there and committed to the field. A number of these women are in California, where farming and ranching are a $50 billion a year industry. But others are working in Australia and Latin American. However, the innovations the women have launched and are launching have worldwide applications.
In the book, the documentary and the virtual exhibition, you will meet such women as Mariana Vasconcelos of Brazil, Ros Harvey of Australia and Ellie Symes of Bloomington, Indiana. They are among those making history in agtech.
Symes founded The Bee Corp. It introduces sensor monitoring and data-analytics to the beekeeping community through decision-support software — providing beekeepers with a service to monitor hive health in real-time, gain insights on hive management methods and optimize operational efficiency.
Harvey worked labor-related groups in Australia and Indonesia before turning to agtech. She is the co-founder and managing director of The Yield. The company offers a variety of technologies, including artificial intelligence (AI) to help agriculture companies solve such challenges as limited water, land availability, and climate change. She found that agriculture had one of the lowest levels of digitization compared to other industries.
Vasconcelos launched Agrosmart in 2014 as co-founder and CEO. The company monitors crops and provides farmers and the entire food supply chain with agronomic and traceability insights.
New software and hardware developed by Agrosmart include drones, artificial intelligence, sensors, data analytics, and robotics.
It's a brave new world in agriculture this century. And the work women in the industry are doing will carry ag productivity into the next century.
Tom Leyde is a veteran journalist, having worked for newspapers on Californian's Central Coast for more than 40 years. He now a freelance writer living in Marana, AZ.
From Farms to Incubators is available now from Quill Driver Books.