New in Business: "Managing Generation Z" teaches supervisors how to get the most from the new generation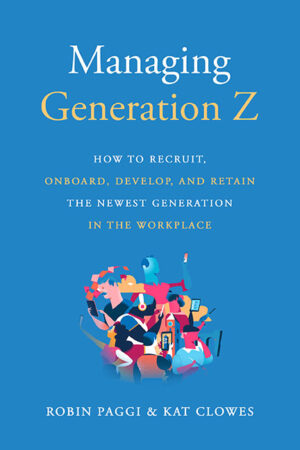 A new generation is entering the American workforce — Generation Z, the age cohort born after 1996. A unique generation with its own culture and working style, Gen Z can be baffling even to Millennial managers, let alone older Generation Xers and Baby Boomers. Our newest business title, Managing Generation Z: How to Recruit, Onboard, Develop, and Retain the Newest Generation in the Workplace, gives front-line supervisors, managers, and C-level executives expert advice on getting the most from their new Generation Z employees.
Written by Robin Paggi, a veteran HR manager, and Kat Clowes, an educational consultant who has worked extensively with Gen Z students, Managing Generation Z is an practical, easy-to-understand guide to the new generation defining the future of work.
Based on Clowes' in-depth knowledge of Gen Z habits and Paggi's real-world experience of how generational miscommunications can cause expensive personnel problems, Managing Generation Z gives managers at all levels a plan for getting quality work from Gen Z employees while avoiding cultural clashes at the office.
Gen Z is highly educated, extraordinarily tech-savvy, eager to meet expectations and loyal to employers, but many Gen Z workers have never been trained in the basics of professionalism, workplace communication and the unwritten social rules older generations instinctively expect.
Managing Generation Z teaches managers how to bridge the communication styles between Gen Z and older colleagues, how to train Gen Z staff to make work objectives clear, and how to evaluate and correct Gen Z employees so they will listen, accept, learn and improve.
Like having an expert HR manager at your fingertips, Managing Generation Z is essential reading for both front-line supervisors and C-level executives who want to get the most from the newest generation in the workforce.