New in fiction, "Upon This Rock," "an elegant twisty thriller," is winning rave reviews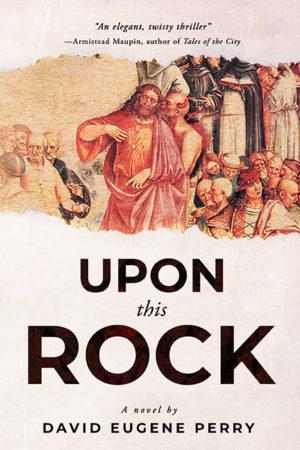 From the moment we first saw the manuscript, we've been excited about our new suspense novel Upon This Rock by David Eugene Perry. An intricate thriller involving the secrets of the Catholic Church, international human trafficking, and a mystery dating back to the Renaissance, Upon This Rock is a tremendously fun fast-paced read that makes you feel like you're barreling down an Italian autostrada in a turbocharged Ferrari.
And we've been blown away by the advance praise for Upon This Rock:
Armistead Maupin, author of the renowned Tales in the City, calls Upon This Rock "an elegant, twisty thriller."
Erika Atkinson, author of Ode to the Castro, says that Upon This Rock is "a wild read. David Perry's ability to build suspense is impressive and the denouement of this thriller will not just surprise you, but literally stun."
Dennis Koller, author of The Rhythm of Evil, says "You will not find a more exquisite, captivating, well written first novel than David Eugene Perry's Upon This Rock."
Lynn Ruth Miller, the oldest comedienne in the world and author of Getting the Last Laugh," says "You will not be able to put this book down. It is page-turner from the first sentence until the unexpected twist ending. Upon This Rock by David Eugene Perry has everything you could possibly want: intrigue, suspense, history and characters so real they almost jump off the page."
And Fenton Johnson, a Guggenheim fellow and author of The Man Who Loved Birds, sums up Upon This Rock as "The gay Da Vinci Code, but a lot better."
The action of Upon This Rock starts when an American couple, business executive Lee Maury and his husband Adriano come to the ancient Italian clifftop city of Orvieto for a much-needed vacation. Lee and Adriano just want to soak in Orvieto's beauty and rich history, but Lee becomes fascinated with a local tragedy, the suicide one year earlier of Deacon Andrea, a much-loved candidate for the priesthood.
Growing obsessed with learning the truth behind Andrea's death, Lee and Adriano stumble upon a conspiracy of terrorism, human trafficking, and a plot to destroy one of the Church's most sacred shrines — all somehow linked across 500 years to Renaissance Pope Clement VII, who escaped to Orvieto after the sack of Rome in 1527.
Before they know it, Lee and Adriano's dream vacation becomes a race to save innocent lives — and not get killed in the process.
A compulsive page-turning thriller with high stakes action in a glamorous setting — and filled with countless unforgettable characters — Upon This Rock is a sensationally entertaining read from a major new talent. Get your copy today.