« Return to Previous Page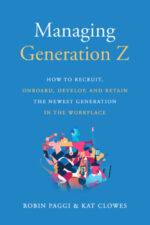 Please note: We accept PayPal only on the website. For credit card orders, please call us at 800-345-4447. Thank you!
by Robin Paggi and Kat Clowes
Publication Date: April 6, 2021
Expert advice on attracting, training, managing, retaining, and succeeding with America's newest generation of hard-working, tech-savvy employees.
A new generation is entering the American workforce—Gen Z, the age cohort born after 1996. Having grown up with smartphones, social media, emoji-speak, helicopter parenting, and no expectation of privacy, Gen Z has a unique culture and working style that can be baffling to their Millennial, Gen X, and Baby Boomer managers.
In Managing Generation Z, Robin Paggi, a veteran HR manager, and Kat Clowes, an educational consultant who has worked with hundreds of Gen Z'ers, join forces to give employers and managers a practical, easy-to-understand guide to the new generation defining the future of work. Based on Clowes's in-depth knowledge of Gen Z habits and Paggi's real-world experience of how generational miscommunications can cause expensive personnel problems, Managing Generation Z gives managers at all levels a plan for getting quality work from Gen Z employees while avoiding cultural clashes at the office.
Gen Z is highly educated, extraordinarily tech-savvy, eager to meet expectations, and loyal to employers, but many Gen Z workers have never been trained in the basics of professionalism, workplace communication, and the unwritten social rules older generations instinctively expect. Managing Generation  Z teaches managers how to bridge the communication styles between Gen Z and older colleagues, how to train Gen Z staff to make work objectives clear, and how to evaluate and correct Gen Z employees so they will listen, accept, learn, and improve.
Like having an expert HR manager at your fingertips, Managing Generation Z is essential reading for both front-line supervisors and C-level executives who want to get the most from the newest generation in the workforce.
$18.95 US • Trade Paperback • 6″ x 9″ • 275 pages
ISBN 978-1-61035-400-4
Striking out on your own after a lifetime of living with your parents is equal parts exhilarating and intimidating, but most of all, it is awkward. There is so much that people expect you to know that no one ever bothered to tell you before – stuff you actually need to know to avoid bankrupting yourself through overspending, poisoning yourself with bad cooking, or drowning in a rising tide of dirty dishes and unwashed laundry.
You don't have to learn all this the hard way. Living On Your Own: The Complete Guide to Setting Up Your Money, Your Space, and Your Life is the cheat sheet to help you take your first steps into adulthood with confidence. Living On Your Own is a completely practical guide to starting out as an independent adult, with hundreds of useful tips to help young people set up a new household. Whether you're moving into a college dorm or into post-college life, Living On Your Own gives you money-, time-, and trouble-saving recommendations, shortcuts, and lifehacks to make your transition smoother.
This readable and comprehensive reference gives answers to all of the decisions, dilemmas, and questions that invariably arise when setting up on your own. Looking for a place to live? Living On Your Own will show you how to cope with roommates and landlords, find a safe neighborhood, deal with moving expenses, and more.
Worried about your finances? Learn all about budgeting, mastering your credit score, saving for retirement, preventing identity theft, and other money topics. Covering everything from the basic budgeting, to home cooking on the cheap, to how to find an eco-friendly detergent, to staying healthy without insurance, to how to not catch an STD, Living On Your Own is an invaluable road map to early adulthood.

Updating…