Two more award wins for "What They Don't Teach Teens" and "Upon This Rock"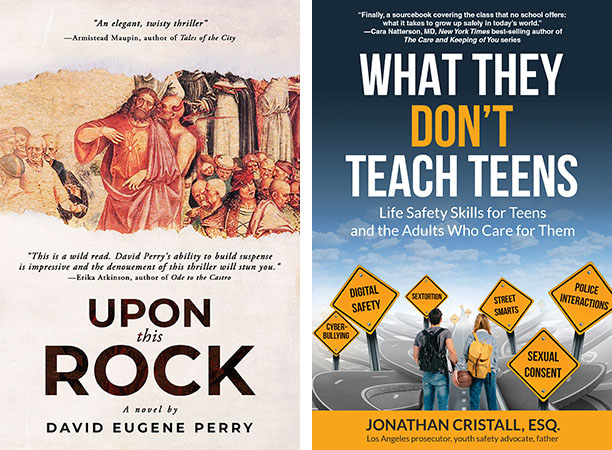 Hearty congratulations to QDB authors Jonathan Cristall and David Eugene Perry, who are sweeping awards season with two new wins.
What They Don't Teach Teens by Jonathan Cristall won a Silver Award in the Foreword Indies in the Family and Relationships category.
What They Don't Teach Teens provides teens, tweens, and their parents with up-to-date, realistic strategies to deal with the dangers of 21st-century adolescence, covering physical safety, sexual consent, social media, interactions with the police, situational awareness, online safety and more.
What They Don't Teach Teens gives sound advice on police interactions and personal safety (your constitutional rights, what to do/not do when stopped by the police while driving, situational awareness, street robberies, gun violence); sexual violence and misconduct (sexual consent, sexual harassment prevention, dating violence, sextortion); and staying safer online (digital footprint and citizenship, cyberbullying, underage sexting, online porn).
Get your copy of What They Don't Teach Teens here.
Upon This Rock by David Eugene Perry won the Best Gay Book Award from the San Francisco Book Festival.
Upon This Rock is a fast-paced thriller about an American gay couple's desperate race to halt a terrorist plot in Orvieto, Italy, one of Europe's most stunning cities. San Francisco business executive Lee Maury and his husband Adriano come to Orvieto to soak in the city's beauty and rich history, but Lee becomes fascinated with a local tragedy, the suicide one year earlier of Deacon Andrea, a much-loved candidate for the priesthood.
Growing obsessed with learning the truth behind Andrea's death, Lee and Adriano find that everyone in Orvieto has some connection with Andrea — and they stumble upon a conspiracy of terrorism, human trafficking, and a plot to destroy one of Catholicism's most sacred shrines. Somehow all of this is connected to a 500-year-old backstory — the plight of Medici Pope Clement VII who sought refuge in Orvieto following the Sack of Rome, whose time in Orvieto is somehow linked to the mysteries of the present.
Before they know it, Lee and Adriano's dream vacation becomes a race to save innocent lives — and not get killed in the process.
A compulsive page-turning thriller with high stakes action in a glamorous setting, Upon This Rock is a sensationally entertaining read from a major new talent.