Yes, physical activity is good for you: study of screen time on adolescents supports upcoming QDB book "Finding Ecohappiness"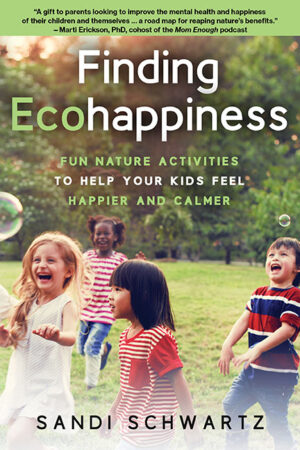 It seems intuitively obvious that physical activity in nature improve mood. Who doesn't feel better after a vigorous walk in green spaces? Now science is proving what we intuitively know. A recent study of adolescent mood and behavior published in The Lancet shows a correlation between physical activities and positive mood and a corresponding correlation between screen time and negative mood. The study of more than 500,000 teenage boys and girls shows that teens self-reported worse mood after every hour of screen time and improved mood after every hour of physical activity.
The study supports the thesis of our upcoming book Finding Ecohappiness: Fun Nature Activities to Help Your Kids Feel Happier and Calmer by Sandi Schwartz. Schwartz, an environmental journalist and mother, had long noticed that outdoor activity improved the mood and mental well-being of herself and her children, and set out to discover the connection between physical activity, nature, and mental health. She discovered that extensive research has shown that physical activity and a connection with nature is essential for mental wellness, especially in children.
But how can parents apply that knowledge to help their children? Finding Ecohappiness guides parents in simple, practical ways they can help their children develop regular habits of reconnecting with nature to reduce stress and boost mood. These activities are simple, fun for children and easily accessible to all families, regardless of their location or socioeconomic status. Moments of reconnecting with nature can be integrated into your children's daily routine, helping them thrive and live a happy, balanced life.
Engaging activities highlighted in Finding Ecohappiness range from hiking and bike rides to visiting nature centers and science museums to volunteering outdoors to embarking on ecotourism adventures. Schwartz introduces readers to unique nature relaxation activities like cow cuddling, animal yoga, forest bathing, float therapy and earthing. But daily ecohappiness can be refreshingly simple — even something as easy as creating a backyard garden can improve your children's mental health and your own.
Finding Ecohappiness will be released on March 22, 2022, and is available for preorder now.